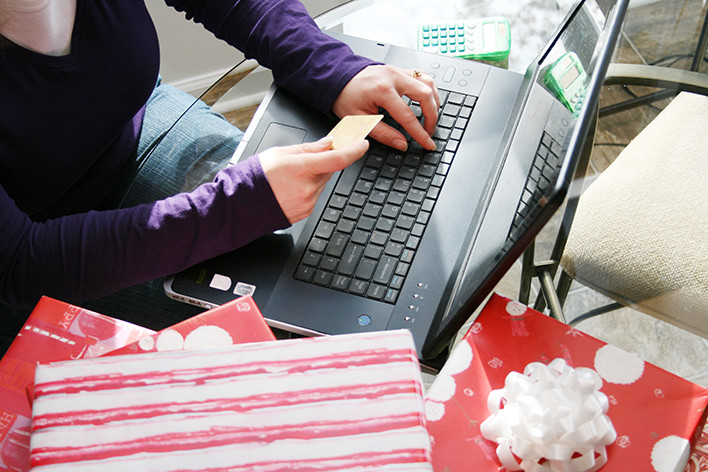 With the holiday shopping season upon us, Americans may have reason to be a little more generous this year. 
Gasoline prices have remained relatively low, wages have edged up and employers have continued to add jobs, holding the unemployment rate at about 5%.  Although economic growth, as measured by gross domestic product, has been below the historic average, consumer spending has been one of the bright spots of the economy.
Retail sales (including food services), were up 2.9% year-over-year through the first nine months of 2016, according to the U.S. Department of Commerce.1
But not every phase of the retail market may be sharing equally in this year's holiday shopping spree.
While the malls may still be bustling this holiday season, if previous retail trends hold, consumers may be spending less at mall stores and more online.
E-commerce sales have continued to climb this year, up 15.8% from a year ago through the second quarter, according to the U.S. Department of Commerce. Online sales accounted for 8.1% of all retail sales through the first two quarters of the year versus 7.5% a year earlier. On the other hand, mall traffic had declined 11 of the past 15 years through 2015, according to our analysis, and represents only about 75% of the mall traffic of 15 years ago. That trend appears to be continuing this year, with mall traffic down by 3.8% from January through August.2
It's not hard to speculate on why online sales are growing at such a rapid rate. More Americans are becoming comfortable using their home computers, laptops and smart phones to do their shopping. Online retailers make it easy for shoppers by wrapping and shipping products directly to recipients, alleviating buyers of the tedious task of driving to stores, shopping for gifts, wrapping them, packing them, and hauling them to the post office where they often face long lines to get their packages shipped.
Leading the Charge
In 2015, Amazon, which is the leading online retailer, accounted for about 1.8% of all U.S. retail sales. In 2016, we are projecting that its share of the domestic retail market will climb to 2.2%. In terms of total online sales, we project that Amazon's share will rise from 19% to 20% in 2016.
One of the driving forces of Amazon's growth has been its Prime members' network. Based on our research, Amazon has about 35 million Prime members who pay $99 a year ($49 for students) to get free 2-day shipping for their orders. By comparison, Costco, the discount retail chain, has 32.4 million members (according to Costco's data). While Costco can offer discount prices to its member shoppers, the selection of approximately 4,000 in-store items is dwarfed by the 20 million items Amazon Prime members can buy online with free 2-day shipping.
Amazon has also lowered the cost of entry for its Prime service this holiday season by offering memberships for $10.99 per month. While the new policy may lead many consumers to join Prime for a month or two during the holiday shopping season before dropping out, an Amazon executive we spoke with said the company still believes the strategy will pay off in the long run by giving more people an opportunity to try out the service to see how they like it.
Amazon introduced its Prime Now free same-day delivery service in late 2014, and it is picking up steam this year. The company reported that it currently offers the service in 40 markets. Amazon also offers one--hour shipping in its Prime Now markets for an extra fee of $7.99 per delivery.
While you might expect the free same-day delivery option to cost consumers more, our research suggests that Prime Now item pricing may be about 20% cheaper than standard prices at Amazon.com. How can that be? Amazon Prime Now has accomplished this by cherry-picking certain high volume items for its same day delivery service, offering only a small fraction of the 20 million items sold through Amazon Prime.
Amazon also encourages its same-day buyers to tip their delivery person to help supplement the stipend they receive from Amazon to make the deliveries. We're watching closely to see how effective the tipping strategy will work. While people are accustomed to tipping the pizza delivery person, it is not something they have been accustomed to doing for other product deliveries from traditional shippers, such as FedEx, UPS or the U.S. Post Office.
To compare the prices of products sold through Prime Now to Amazon.com and Walmart.com, we recently placed an order for seven items from all three services. Here are the costs for each item from the three services: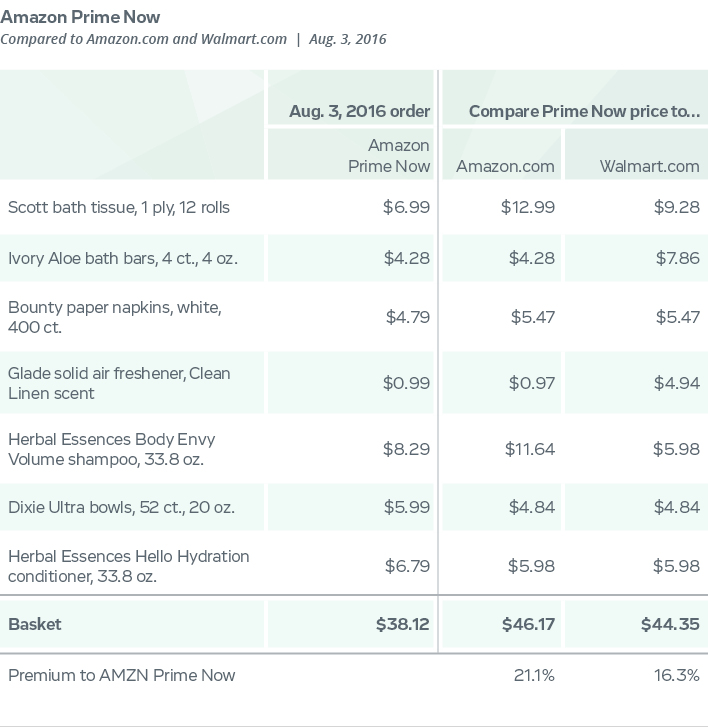 Although this is a small sample size, as the table illustrates, the cost of the seven products from Prime Now was 21.1% cheaper than a buyer would pay for the same seven items from Amazon.com and 16.3% cheaper than Walmart.com. The costs stated do not take into account shipping or delivery costs or membership fees, which may vary depending on the service plan of the customer.
Fighting Back
Mall stores are fighting back with incentives for shoppers to bring them back to their stores. Some stores are offering "bounce-back" coupons that give buyers significant savings if they return to the stores within a few days. For instance, if you buy $150 worth of goods, a store may give you a coupon for about $50 that can be used over the next few days before it expires.
While the "bounce-back" coupon concept may be effective in driving shoppers back to the stores, we still believe that mall retailers will continue to face a dwindling flow of traffic in the future as more shoppers go online.
Although many retailers have continued adding new stores even as mall traffic declines, Macy's recently announced that it plans to cut its retail space by 12% next year. The retailer already has cultivated a growing online presence where it draws 15% of its total sales.
We believe that other retailers should follow suit. Although closing stores to counteract declining profits may seem counterintuitive for growth-oriented retailers, Home Depot has shown that holding the line on new store openings may be beneficial for the bottom line.
Home Depot cut back dramatically on new store openings several years ago, holding square footage growth to just 1% since 2008. The retailer had 2,230 stores in 2008 and 2,278 stores in 2016, according to company documents. But by focusing on promoting existing stores rather than opening a raft of new stores, Home Depot has managed to triple its profits since 2008. The company has also promoted its online presence to participate in the growth of the ecommerce market.
Brick and mortar retailers will still be a force in the holiday shopping market this year, but as more Americans become comfortable shopping online, mall store sales may experience diminishing returns in the holiday seasons ahead. 
All information and representations herein are as of 11/01/2016, unless otherwise noted.
The views expressed are as of the date given, may change as market or other conditions change, and may differ from views expressed by other Thrivent Asset Management associates. Actual investment decisions made by Thrivent Asset Management will not necessarily reflect the views expressed. This information should not be considered investment advice or a recommendation of any particular security, strategy or product.  Investment decisions should always be made based on an investor's specific financial needs, objectives, goals, time horizon, and risk tolerance.
This article refers to specific securities which Thrivent Mutual Funds may own. A complete listing of the holdings for each of the Thrivent Mutual Funds is available on ThriventFunds.com.
---
1 U.S. Department of Commerce retail report, October 14, 2016
2 Source: Goldman Sachs and ShopperTrak, Goldman Sachs research report, August 30, 2016
Well that's unexpected - your subscription request was not submitted. Please try again.
Gain From Our Perspective
Get Our Investing Insights Newsletter in Your Inbox.
SUBSCRIBE NOW
Gain From Our Perspective
Get Our Investing Insights Newsletter in Your Inbox.
SUBSCRIBE
Thanks for Signing Up!
Be sure to check your inbox for the Investing Insights newsletter to get the latest news and insights from Thrivent Mutual Funds.
Great news - you're on the list!
Looks like you're already on our mailing list. Be sure to check your inbox for the Investing Insights newsletter to get the latest news and insights from Thrivent Mutual Funds.