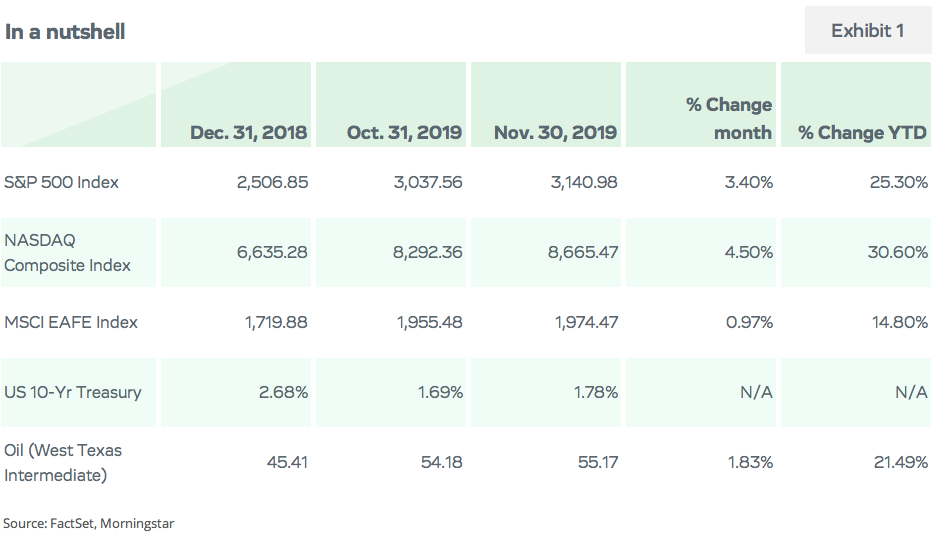 The stock market continued to move up in November, with a 3.40% gain for the S&P 500®.
Bond yields moved up modestly in November, with 10-year U.S. Treasury bond yields rising from 1.69% at the end of October to 1.78% at the November close.

Here are some other recent economic highlights:
U.S. stocks move up

The S&P 500® rose 3.40% for the month, from 3,037.56 at the October close to 3,140.98 at the end of November. (The S&P 500 is a market-cap-weighted index that represents the average performance of a group of 500 large capitalization stocks.)
The total return of the S&P 500 (including dividends) was 3.63% in November and 27.63% through the first 11 months of 2019.

The NASDAQ Index was up 4.50% in November, from 8,292.36 at the end of October to 8,665.47 at the November close. For the year, the NASDAQ is up 30.60%. (The NASDAQ – National Association of Securities Dealers Automated Quotations – is an electronic stock exchange with more than 3,300 company listings.)

Retail sales rebound
Total retail sales for October were up 0.3% from the previous month after declining by 0.3% in September, according to the Department of Commerce report on November 15. Total sales versus a year earlier were up 3.1%.

Motor vehicle sales rebounded from a weak showing in September to solid growth in October. After dropping 0.9% in September, motor vehicle sales were up 0.5% in October. Versus a year earlier, sales were up 4.5%. Building materials have been lagging, down 0.5% for the month and down 2.0% from a year earlier. Department store sales gained 0.1% from the previous month but were still very weak for the year – down 6.9% from a year earlier. The weakness in department store sales appears to be a direct result of rising online sales. Non-store retailers (primarily online) were up 0.9% from the previous month in October and up 14.3% from a year earlier.

Employment growth still slow
U.S. employers added 128,000 new jobs in October, according to the U.S. Bureau of Labor Statistics Employment Situation Report issued November 1. The unemployment rate remained near a 50-year low at 3.6%.
Most sectors move up
Most S&P 500 sectors moved up in November, led by Information Technology, up 5.38%, Health Care, up 5.04%, Financials, up 5.04%, and Industrials, up 4.46%. Only two sectors declined, Utilities, down 1.84%, and Real Estate, down 1.72%.
The chart below shows the results of the 11 sectors for the past month and all of 2019: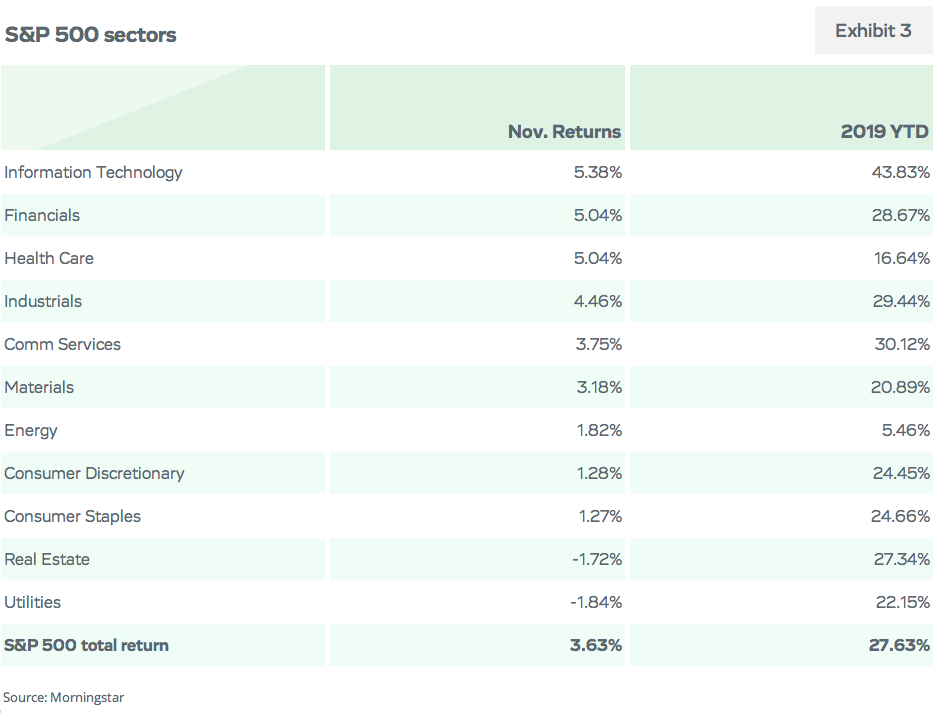 Treasury yields up modestly

The yield on 10-year U.S. Treasuries moved up modestly in November, climbing from 1.69% at the October close to 1.78% at the end of November.

Oil prices still stagnant
Oil prices have had little movement over the past few months. The price of a barrel of West Texas Intermediate, a grade of crude oil used as a benchmark in oil pricing, closed November at $55.17, up 1.83% from the October close of $54.18. Oil prices have been little changed over the past several months as supply and demand are in reasonable balance.

International equities edge up
The MSCI EAFE Index, which tracks developed-economy stocks in Europe, Asia and Australia, was up 0.97% in November. It is up 14.80% for the year.

---
All information and representations herein are as of 12/03/2019, unless otherwise noted.
The views expressed are as of the date given, may change as market or other conditions change, and may differ from views expressed by other Thrivent Asset Management associates. Actual investment decisions made by Thrivent Asset Management will not necessarily reflect the views expressed. This information should not be considered investment advice or a recommendation of any particular security, strategy or product.  Investment decisions should always be made based on an investor's specific financial needs, objectives, goals, time horizon, and risk tolerance.
An index is unmanaged, and an investment cannot be made directly in an index.
Past performance is not necessarily indicative of future results.