The U.S. Federal Reserve decided to wait longer before raising the short-term federal funds rate, citing a near-term softening of inflation expectations amid the recent global market decline and falling commodity prices.
By the Numbers
Market activity in September, as reflected in the most common market indexes we follow.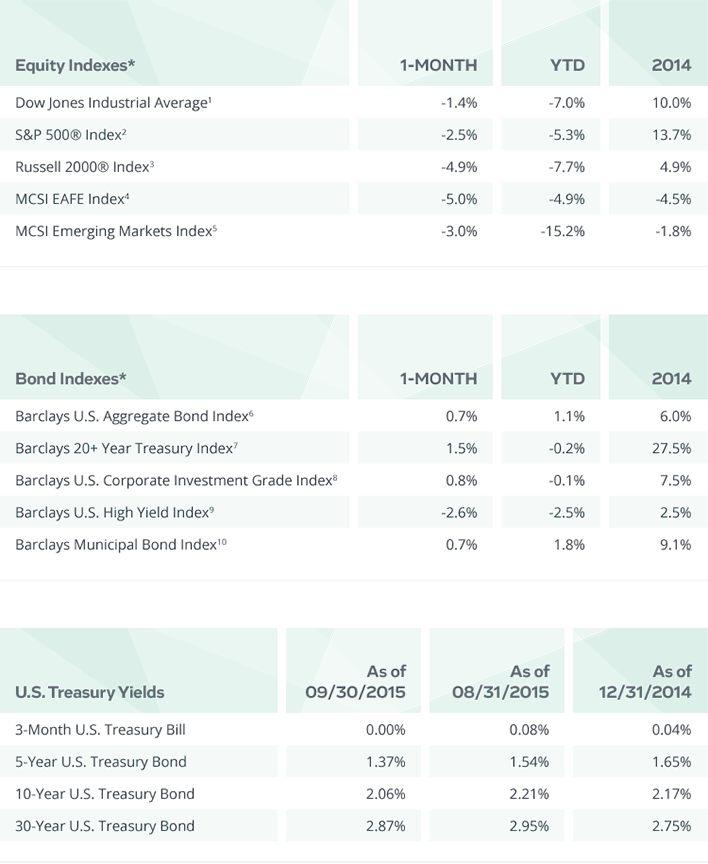 Global Market Turmoil Pauses Fed Plans
Earlier in the year, many market watchers were predicting the Fed would raise rates in September. However, as summer progressed, a series of concerning global developments cast doubt on that forecast. Perhaps the biggest driver has been the slowing down of China's economy, which has triggered negative performance in stock markets around the world and led to rallies in safe-haven investments like U.S. Treasury bonds. While economists have been expecting a slowdown in China's growth rate, numerous underwhelming economic reports and a collapsing Chinese stock market have suggested the slowdown could be much more dramatic than initially anticipated. This has in turn led to a global decline in commodity prices, which has an oversized negative impact on the economic output of emerging markets, many of which rely heavily on exporting their natural resources. The end result is a slowdown in the world economy, making the Fed a little more cautious about tightening its monetary policy.
In the U.S., a strong top-line unemployment rate of just 5.1% hides some of the slack still existent in the domestic labor market. A relatively low labor participation rate and little upward pressure on wages suggest there is still plenty of room for improvement. The lack of upward wage pressure has teamed with falling commodity prices to keep inflation below the Fed's target of 2%. Raising rates would put further downward pressure on inflation, which can negatively impact consumer spending. People are more likely to postpone purchases if they think prices are going to continue to fall, and if prices aren't rising, there is less incentive for companies to pay higher salaries to employees, which also inhibits consumer spending. So rather than risk pushing inflation lower, the Fed chose to wait a little longer before beginning to raise rates.
Fed Rate Hike Still Probable for Later in 2015
Despite the number of immediate challenges facing the Fed, most voting members are still leaning toward raising rates before the end of the year. Federal Reserve Board Chair Janet Yellen stressed once again that the Fed's decisions are data dependent and will change depending on economic circumstances, but she also asserted that the recent global developments have not altered the Fed's longer-term outlook and that they expect their effects on inflation to be short lived. The Federal Reserve will certainly be paying close attention to reports on global growth and U.S. employment in order to determine the timing of the initial interest rate lift-off.
Well that's unexpected - your subscription request was not submitted. Please try again.
Gain From Our Perspective
Get Our Investing Insights Newsletter in Your Inbox.
SUBSCRIBE NOW
Gain From Our Perspective
Get Our Investing Insights Newsletter in Your Inbox.
SUBSCRIBE
Thanks for Signing Up!
Be sure to check your inbox for the Investing Insights newsletter to get the latest news and insights from Thrivent Mutual Funds.
Great news - you're on the list!
Looks like you're already on our mailing list. Be sure to check your inbox for the Investing Insights newsletter to get the latest news and insights from Thrivent Mutual Funds.
The views expressed are as of the date given, may change as market or other conditions change, and may differ from views expressed by other Thrivent Asset Management associates. Actual investment decisions made by Thrivent Asset Management will not necessarily reflect the views expressed. This information should not be considered investment advice or a recommendations of any particular security, strategy or product.  Past performance is not a guarantee of future results.  Investment decisions should always be made based on an investor's specific financial needs, objectives, goals, time horizon, and risk tolerance.
1The Dow Jones Industrial Average is an index of 30 "blue chip" stocks traded in the U.S.
2The S&P 500® Index is a widely followed index, and is composed of 500 widely held U.S. stocks.
3The Russell 2000® Index measures performance of small-cap stocks.
4The MSCI EAFE Index measures developed-economy stocks in Europe, Australasia and the Far East.
5The MSCI Emerging Markets Index measures developing-economy stocks.
6The Barclays U.S. Aggregate Bond Index measures performance of a wide variety of publicly traded bonds.
7The Barclays 20+ Year Treasury Index measures performance of longer maturity treasury bonds.
8The Barclays U.S. Corporate Investment Grade Index measures performance of the investment grade bond sector.
9The Barclays High Yield Index measures performance of the high yield bond sector.
10The Barclays Municipal Bond Index measures performance of the municipal bond sector.