After declining 6.4% for the third quarter, the S&P 500 Index rebounded by more than 8% in October, pushing back into positive territory for the year. Markets around the world generally fared better as well, despite continuing concerns about slowing global growth and uncertainty surrounding the Federal Reserve's pending decision to raise rates.
By the Numbers
Market activity in October, as reflected in the most common market indexes we follow.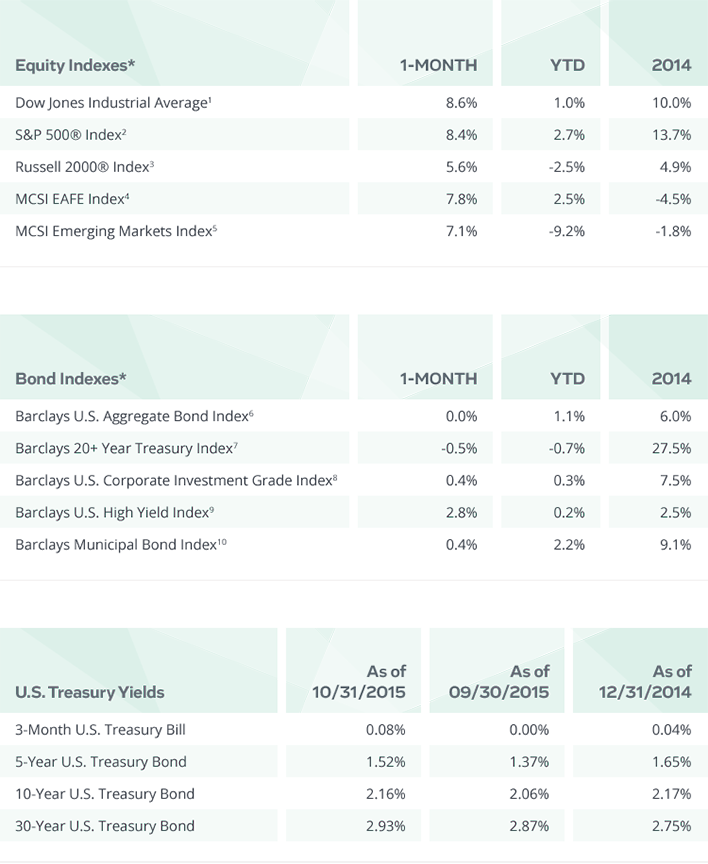 Lack of Bad News Helps Markets Regain Their Footing
The market recovery in October suggests that investors think the factors that contributed to the third-quarter correction were a bit overplayed. While concerns over the Chinese economy persist, no new significant negative factors developed in recent weeks. The decline in Chinese stock markets didn't spillover significantly into other markets and the support measures taken by the government seemed to have had some positive effects. Other emerging markets have shown signs of life, too, with the MSCI Emerging Market Index climbing more than 7% in October. Crude oil has rebounded some from its third-quarter lows, too, but is still well below the $60 per barrel levels last seen in June.
In the U.S., economic and fundamental reports have also been somewhat mixed, but calm enough to provide some breathing room for the market bounce-back. Corporate earnings have been declining, but not at the pace originally projected. With roughly two-thirds of companies in the S&P 500 reporting third-quarter earnings through the end of the month, 76% have beaten their estimates. The blended earnings rate is still -2.2%, but earlier projections were anticipating a 5.2% decline. Congress was also able to pass a two-year budget deal along with a suspension of the debt ceiling until March 2017, removing any immediate concerns over a potential government shutdown or a disastrous Treasury default. While the shutdown/debt ceiling debate hadn't reached the fever pitch seen in previous cycles, markets now won't be forced to endure the uncertainty that had surrounded that discussion in the past. The budget deal even boosted spending by a modest amount, counterbalancing previous fiscal austerity headwinds and, according to economists, likely adding up to 0.2% to future GDP growth rates, although the bipartisan compromise agreement did ultimately cost Rep. John Boehner his job as Speaker of the House.
Fed Update: Market Predictions Evenly Split Over Lift-off Dates
The Federal Reserve decided to hold off on raising the federal funds rate yet again, but also slightly changed its language in the statement it released in October, using a more hawkish tone that increased the likelihood of a rate hike before the end of the year. The change in tone caused a modest increase in treasury rates, particularly in shorter maturity bonds. However, futures markets are still split almost evenly as to whether the Fed will raise rates at its December meeting or wait until 2016 to pull the trigger. Softer labor data and persistently low inflation rates, paired with monetary policy divergence (China, Japan, Europe and other central banks are planning to increase their quantitative easing methods while the U.S. is inching towards a significant tightening), has a lot of investors thinking the Fed is better off waiting until March 2016 or even later before lift-off.
Well that's unexpected - your subscription request was not submitted. Please try again.
Gain From Our Perspective
Get Our Investing Insights Newsletter in Your Inbox.
SUBSCRIBE NOW
Gain From Our Perspective
Get Our Investing Insights Newsletter in Your Inbox.
SUBSCRIBE
Thanks for Signing Up!
Be sure to check your inbox for the Investing Insights newsletter to get the latest news and insights from Thrivent Mutual Funds.
Great news - you're on the list!
Looks like you're already on our mailing list. Be sure to check your inbox for the Investing Insights newsletter to get the latest news and insights from Thrivent Mutual Funds.
The views expressed are as of the date given, may change as market or other conditions change, and may differ from views expressed by other Thrivent Asset Management associates. Actual investment decisions made by Thrivent Asset Management will not necessarily reflect the views expressed. This information should not be considered investment advice or a recommendations of any particular security, strategy or product.  Past performance is not a guarantee of future results.  Investment decisions should always be made based on an investor's specific financial needs, objectives, goals, time horizon, and risk tolerance.
1The Dow Jones Industrial Average is an index of 30 "blue chip" stocks traded in the U.S.
2The S&P 500® Index is a widely followed index, and is composed of 500 widely held U.S. stocks.
3The Russell 2000® Index measures performance of small-cap stocks.
4The MSCI EAFE Index measures developed-economy stocks in Europe, Australasia and the Far East.
5The MSCI Emerging Markets Index measures developing-economy stocks.
6The Barclays U.S. Aggregate Bond Index measures performance of a wide variety of publicly traded bonds.
7The Barclays 20+ Year Treasury Index measures performance of longer maturity treasury bonds.
8The Barclays U.S. Corporate Investment Grade Index measures performance of the investment grade bond sector.
9The Barclays High Yield Index measures performance of the high yield bond sector.
10The Barclays Municipal Bond Index measures performance of the municipal bond sector.