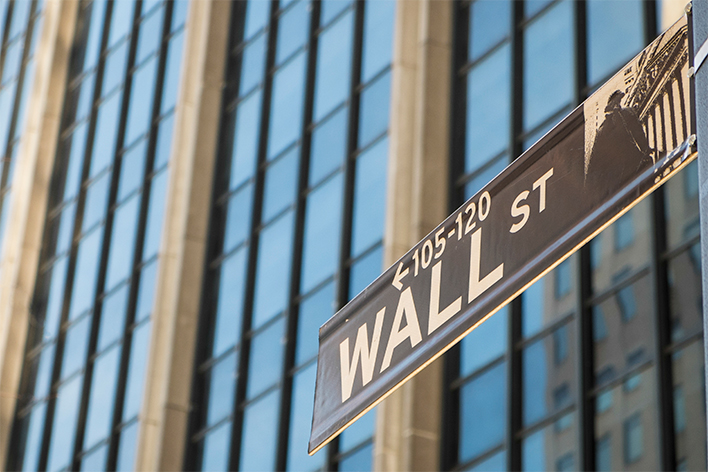 Stock markets ushered 2016 in with the worst opening week in the history of the S&P 500 Index, dropping -6.2%. Equities bounced back somewhat over the rest of the month, but not until serious damage had already been done. Amid the stock market volatility, money flooded into safe-haven U.S. Treasury stocks, pushing rates lower despite the recent Fed Funds Rate hike.
By the Numbers
Market activity in January, as reflected in the most common market indexes we follow.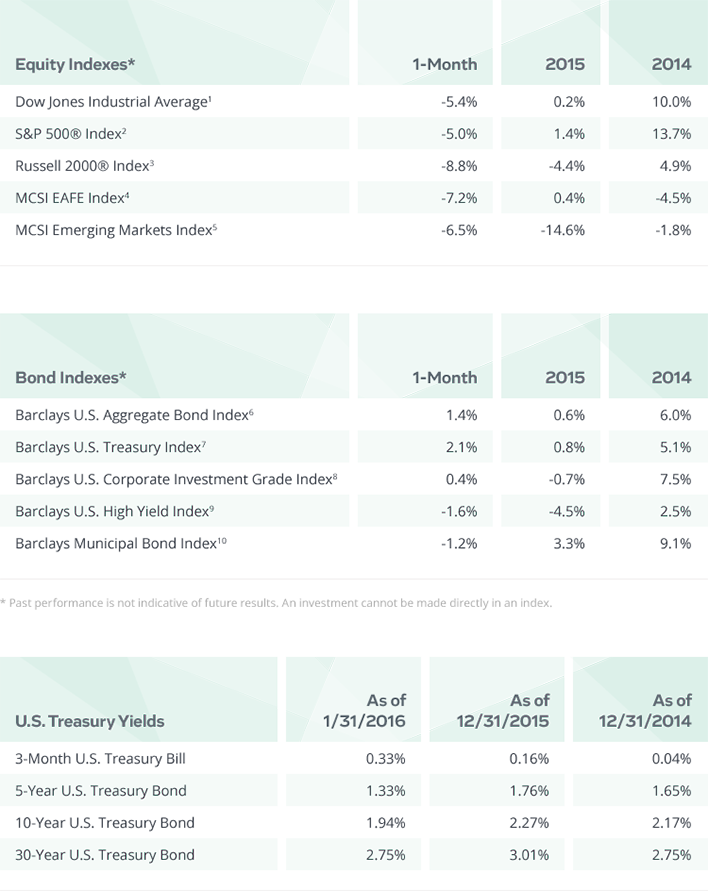 China Growth Concerns Drive Volatility
China's Shenzhen stock market, which is primarily open only to Chinese citizens, had a wild 2015, rallying over 100% in the first half of the year, before dropping nearly 50%. 2016 ushered in a new round of sell-offs, with Chinese markets actually closing early twice due to circuit breaker rules meant to stem losses. However, the circuit breakers proved to only exacerbate selling pressure, so they were quickly discontinued. Investors across the globe worried that the decline wasn't simply a matter of an isolated, overvalued market bubble bursting, but rather indicative of broader problems in the Chinese economy. A slowdown in growth has long been anticipated as China shifts from a government investment-led economy to a consumer-led one. The Chinese government has reported gradually declining GDP growth rates that have now fallen below 7% - the lowest annual growth rate since 1990. As China's growth rate slows, it has also decreased its infrastructure building, which has greatly reduced the amount of commodities they purchase in the global market, which has driven many commodities prices down and hampered the economies of many emerging markets. 
Further Fed Rate Hikes Unclear; Other Central Banks Keep Easing
The Fed softened some of its language regarding rate hikes during January, implying that the group is concerned about market volatility and doesn't want to inflict further damage by raising rates further. While investors don't expect another rate hike anytime soon, the Fed has left the door open in case positive economic signs re-emerge. Almost on cue, the first estimate of fourth quarter U.S. GDP growth was reported at a paltry 0.7% annualized rate, down substantially from 2.0% in the third quarter. Risk of the U.S. slipping into a recession remains low, but isn't at zero. Consumer confidence is relatively robust and unemployment figures are reasonably strong while continuing to trend in the right direction, but an increase in downside risks (like spillover from China) has caused some analysts to downgrade their 2016 growth outlooks.
Other central banks were also offering dovish moves that were met positively by the market, helping equities bounce back some from mid-month lows. The European Central Bank stressed that it will review its current policy, saying that the ECB has the "power, determination and willingness" to act. The Bank of Japan also gave equity markets a positive surprise by introducing negative interest rates that are meant to encourage borrowing and investing.
All information and representations herein are as of January 31, 2016, unless otherwise noted.
The views expressed are as of the date given, may change as market or other conditions change, and may differ from views expressed by other Thrivent Asset Management associates. Actual investment decisions made by Thrivent Asset Management will not necessarily reflect the views expressed. This information should not be considered investment advice or a recommendation of any particular security, strategy or product.  Investment decisions should always be made based on an investor's specific financial needs, objectives, goals, time horizon, and risk tolerance.
Asset management services provided by Thrivent Asset Management, LLC, an SEC-registered investment adviser. Thrivent Asset Management, LLC is a wholly owned subsidiary of Thrivent Financial for Lutherans, Appleton, WI.
---
1The Dow Jones Industrial Average is an index of 30 "blue chip" stocks traded in the U.S.
2The S&P 500 Index is a widely followed index, and is composed of 500 widely held U.S. stocks.
3The Russell 2000® Index measures performance of small-cap stocks.
4The MSCI EAFE Index measures developed-economy stocks in Europe, Australasia and the Far East.
5The MSCI Emerging Markets Index measures developing-economy stocks.
6The Barclays U.S. Aggregate Bond Index measures performance of a wide variety of publicly traded bonds.
7The Barclays 20+ Year Treasury Index measures performance of longer maturity treasury bonds.
8The Barclays U.S. Corporate Investment Grade Index measures performance of the investment grade bond sector.
9The Barclays High Yield Index measures performance of the high yield bond sector. 
10The Barclays Municipal Bond Index measures performance of the municipal bond sector.
Well that's unexpected - your subscription request was not submitted. Please try again.
Gain From Our Perspective
Get Our Investing Insights Newsletter in Your Inbox.
SUBSCRIBE NOW
Gain From Our Perspective
Get Our Investing Insights Newsletter in Your Inbox.
SUBSCRIBE
Thanks for Signing Up!
Be sure to check your inbox for the Investing Insights newsletter to get the latest news and insights from Thrivent Mutual Funds.
Great news - you're on the list!
Looks like you're already on our mailing list. Be sure to check your inbox for the Investing Insights newsletter to get the latest news and insights from Thrivent Mutual Funds.