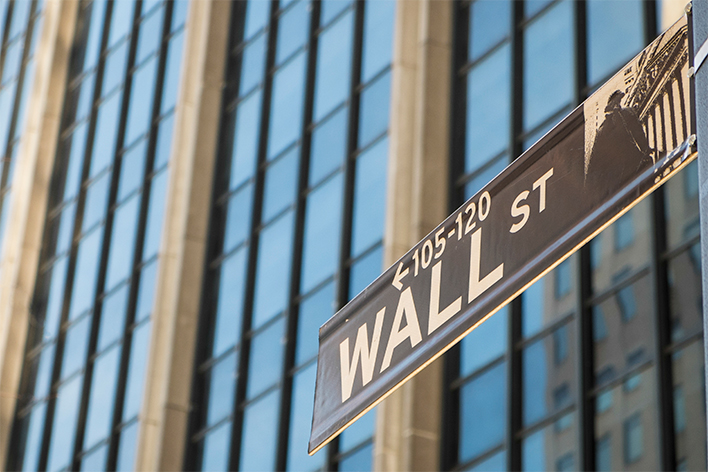 The biggest investment story of the year finally found a conclusion when the Federal Reserve unanimously raised the Fed Funds Rate by 25 basis points, the first increase after more than six years near zero. The rest of the month proved volatile resulting in many markets having relatively flat performance for 2015.
By the Numbers
Market activity in December, as reflected in the most common market indexes we follow.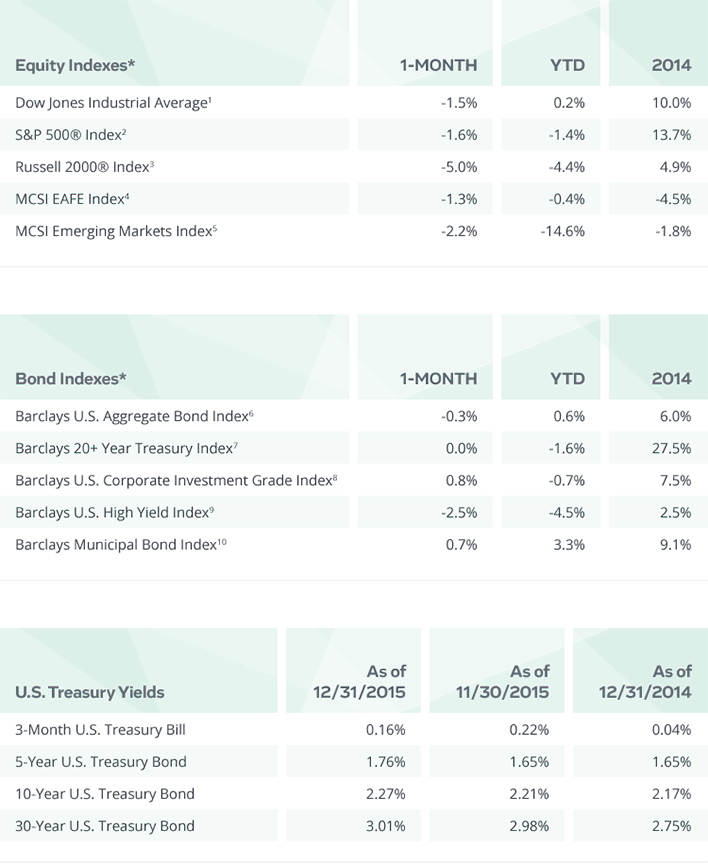 Fed Raises Rates, Now When's the Next One?
While investment markets were finally able to close the chapter on the debate over the Fed's lift-off timing, the next pages of the book look quite similar to the last one. Now the debate begins around when the Fed will hike rates next, and how many times they'll do so in 2016. Fed projections suggest 4 additional rate hikes, but investors are skeptical of that target. Futures markets are predicting just a 45% chance that the next rate hike will occur during the Fed's March meeting, which is likely needed to stay on the Fed's projected pace. The initial announcement prompted a slight run-up in treasury rates, but an uptick in global volatility has since sent money running to safer investments causing treasury yields to step back down.
The Fed will continue closely monitoring employment figures and inflation rates, as well as U.S. and global growth in GDP. While top-line measures of unemployment appear strong, the workforce participation rate is well below pre-recession numbers and wage inflation has yet to take off. Inflation (less food and energy) has been ticking upward, but remains below the Fed's 2% target, and GDP has similarly been steady but unimpressive. While the U.S. has been tightening its monetary policy, many other major economies have been easing theirs; for example, the European Central Bank cuts its deposit rate in December and extended its asset purchase program. This diverging set of policies has contributed to a strengthening dollar, which can make it challenging for U.S. exporters to compete in global markets.
Oil Prices Push Into Long-term Lows
Crude oil prices have remained stubbornly low, ending the year below $40 a barrel, the lowest price in more than ten years. Oil prices were comfortably above $100 a barrel just 18 months earlier. OPEC has maintained production in the face of the low prices in an attempt to drive out oil producers with higher breakeven rates, such as U.S. shale companies, leaving the marketplace with a supply glut. U.S. production has remained relatively steady, but declining rig counts and capital spending belt-tightening should eventually lead to a decrease in production. Low prices and even modest global growth will inherently lead to increased demand, too. While the near-term may continue to be painful for the oil industry, well-run, efficient businesses that can weather the storm will position themselves nicely for the inevitable rise in oil prices, whenever that may come.
Well that's unexpected - your subscription request was not submitted. Please try again.
Gain From Our Perspective
Get Our Investing Insights Newsletter in Your Inbox.
SUBSCRIBE NOW
Gain From Our Perspective
Get Our Investing Insights Newsletter in Your Inbox.
SUBSCRIBE
Thanks for Signing Up!
Be sure to check your inbox for the Investing Insights newsletter to get the latest news and insights from Thrivent Mutual Funds.
Great news - you're on the list!
Looks like you're already on our mailing list. Be sure to check your inbox for the Investing Insights newsletter to get the latest news and insights from Thrivent Mutual Funds.
The views expressed are as of the date given, may change as market or other conditions change, and may differ from views expressed by other Thrivent Asset Management associates. Actual investment decisions made by Thrivent Asset Management will not necessarily reflect the views expressed. This information should not be considered investment advice or a recommendation of any particular security, strategy or product.  Past performance is not a guarantee of future results.  Investment decisions should always be made based on an investor's specific financial needs, objectives, goals, time horizon, and risk tolerance.
Asset management services are provided by Thrivent Asset Management, LLC, a wholly owned subsidiary of Thrivent Financial, the marketing name for Thrivent Financial for Lutherans. 
All information and representations herein are as of 12/31/15, unless otherwise noted.
1The Dow Jones Industrial Average is an index of 30 "blue chip" stocks traded in the U.S.
2The S&P 500® Index is a widely followed index, and is composed of 500 widely held U.S. stocks.
3The Russell 2000® Index measures performance of small-cap stocks.
4The MSCI EAFE Index measures developed-economy stocks in Europe, Australasia and the Far East.
5The MSCI Emerging Markets Index measures developing-economy stocks.
6The Barclays U.S. Aggregate Bond Index measures performance of a wide variety of publicly traded bonds.
7The Barclays 20+ Year Treasury Index measures performance of longer maturity treasury bonds.
8The Barclays U.S. Corporate Investment Grade Index measures performance of the investment grade bond sector.
9The Barclays High Yield Index measures performance of the high yield bond sector.
10The Barclays Municipal Bond Index measures performance of the municipal bond sector.