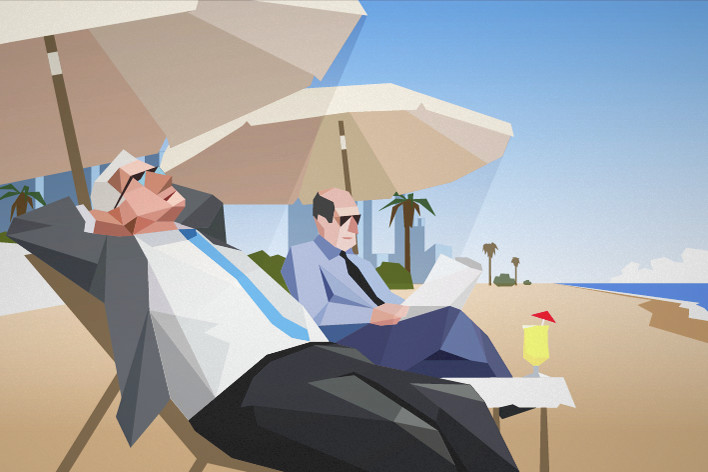 The markets moved in slow-motion in August – as though all of Wall Street had turned off the lights and headed to the Hamptons for a final summer hiatus.  August 31 marked the 38th straight day without so much as a 1% daily change in the S&P 500 – either up or down. It was the longest such streak since the summer of 2014.
Markets around the world seemed to follow suit, with little movement in the MSCI EAFE Index. The index was down slightly – declining 0.21% from the July close.
Here are some other highlights from the month covered in more detail later in this report:
Oil prices bounced back in August, pushing energy stocks back up from their July slide. 
After some relatively strong months, retail sales were flat in August, with auto sales as the only significant sector edging higher.
The Fed again declined to raise interest rates, but Fed Chair Janet Yellen indicated that the current economic conditions may be ripe for a rate hike soon. 
U.S. employers added 255,000 new non-farm employees in July, according to the U.S. Department of Labor report August 5.
Government bond rates remain at historically low or negative levels around the world.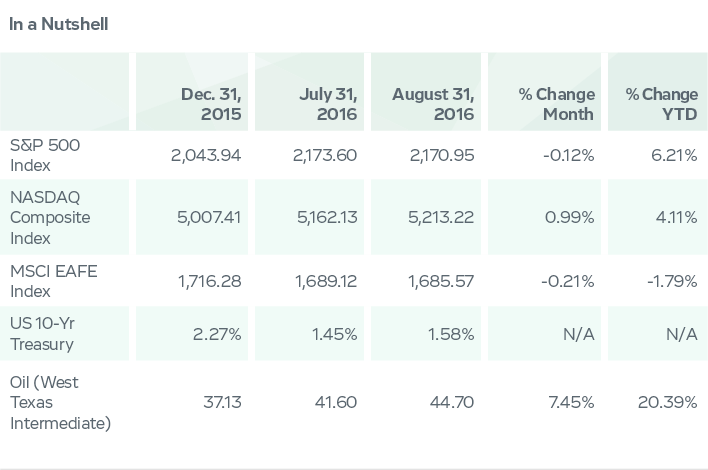 Drilling Down
Stocks Stagnation
After a slow month in the market, the S&P 500 closed August 31 at 2170.95, a decline of 0.12% from the 2173.60 at which it ended the month in July.
Consumer Spending Slows
After several relatively strong months, retail sales were virtually unchanged from the previous month, according to the U.S. Census Bureau advance estimates of U.S. retail and food services sales for July, released on August 12. However, July sales were 2.3% above the July 2015 mark. Total sales for the May 2016 through July 2016 period were up 2.5% from the same period a year ago.
The strongest segment of the retail market was auto sales, up 1.1% from the previous month. But excluding auto sales, total retail sales slipped 0.3%. It was the first decline in non-auto retail sales since March.
Job Growth Continues
For the second straight month, job growth was impressive, with a rise in non-farm payroll jobs of 255,000, according to the U.S. Department of Labor Employment Report issued August 5. The combined total of 547,000 new jobs for June and July represented the highest two-month total of 2016.  (The June total was revised up from 287,000 to 292,000 – the highest single month of job growth since October 2015.)
Despite the gains in new hires, unemployment remained steady at 4.9%, as more Americans continue to enter the workforce seeking employment. (See: U.S. Job Growth Strengthens for Second Straight Month)
Sector Returns
After leading the market throughout the year, the Utilities and Telecommunications sectors both took a hit in August, with the Utilities sector down 5.62% and Telecom Services down 5.67%. After dropping slightly in July, Energy was up 1.15% in August on the strength of a rebound in oil prices.
Other leading sectors included Information Technology, up 2.12% and Financials, up 3.83%.
The table below details the monthly and year-to-date performance of each of the 10 S&P 500 sectors: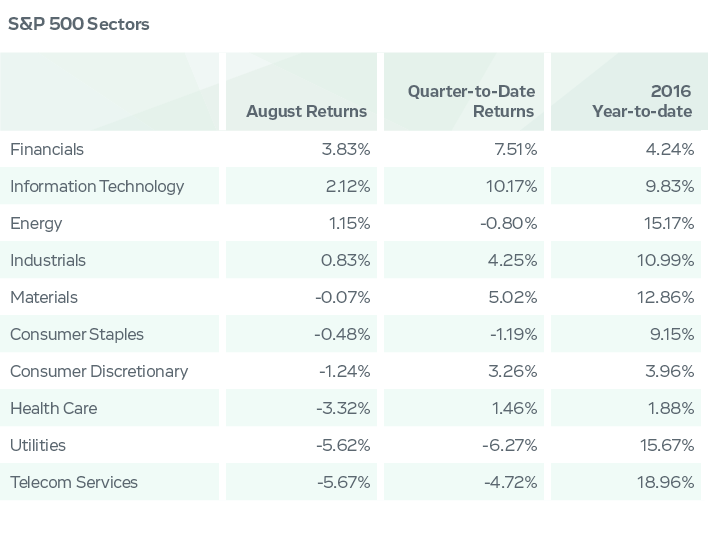 Bond Market: Is a Rate Hike Coming?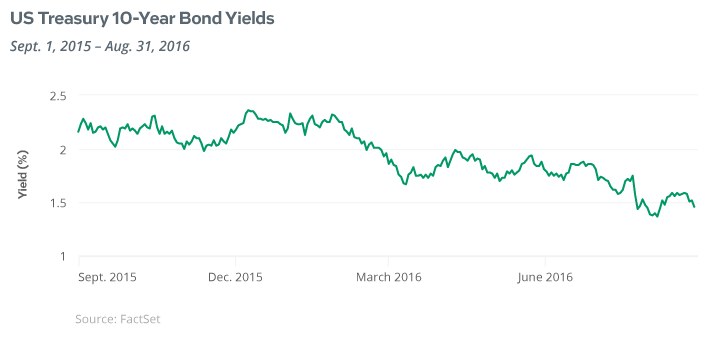 Although the Fed took no action in August, a speech August 26 by Fed Chair Janet Yellen raised speculation that the Fed may raise rates in September for the first time this year. "In light of the continued solid performance of the labor market and our outlook for economic activity and inflation," said Yellen in her Jackson, WY speech, "I believe the case for an increase in the federal funds rate has strengthened in recent months."1  (See: Where's that Fed Hike? See You in September?)
Interest rates edged up slightly in August, but remain at historically low levels. After dropping to a four-year low of 1.36% on July 8, 10-year U.S. Treasury yields have recovered slightly to end August at 1.58%.
U.S. bond yields continue to be held back by negative rates in Europe and Japan. In all, more than $10 trillion in (non-U.S.) government bonds now carry negative interest rates. (Negative interest rates refer to a monetary policy in which bank deposits and government bonds actually return less than the investor deposits.)
Dollar Nearly Unchanged for the Month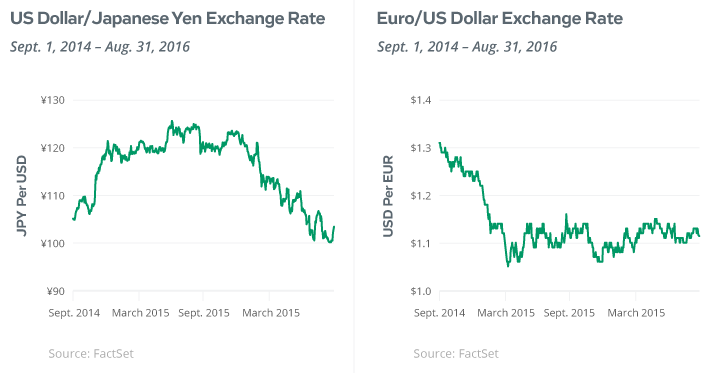 After a somewhat volatile month, the dollar ended the month up less than 1% versus both the Euro and the Yen.
Oil Gains While Gold Fades 

After tumbling in July, oil prices rebounded in August as the balance between supply and demand appeared to be improving.
After starting the month at $41.60 a barrel (West Texas Intermediate), the price made a strong move up, tapering off in the final days to finish the month at $44.70 per barrel – a 7.45% increase.
Gold prices, which surged to a two-year high of $1,367.10 on August 2, retreated during the month, falling sharply to $1,311.40 on August 31.
Global Market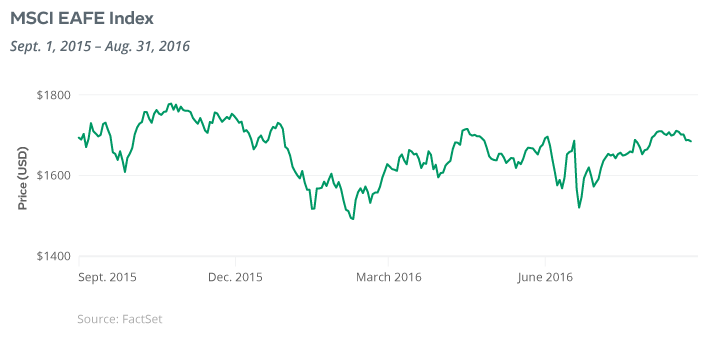 Markets around the world seemed to follow lead of the slow-moving U.S. stock market. The global equities market, as measured by the MSCI EAFE Index, was down slightly in August– declining 0.21% from the July close.  
Fast-Forward: Outlook for the Markets
What's ahead for the economy and the markets? Here's our assessment:
Headwinds
Retail sales had been one of the strong points of the U.S. economy in recent months, but sales growth slowed in August, raising some new concerns about the strength of the economy. While consumer spending has held up relatively well, we believe that if the consumer stops spending, that could be a serious blow to the economy.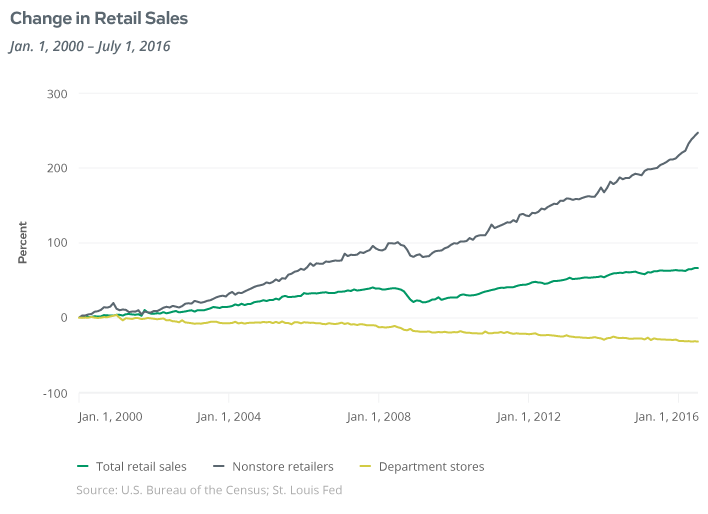 We also continue to be concerned about sluggish corporate earnings and sub-par manufacturing output levels.  
Although the financial sector gained in the stock market in August due, in part, to the strength of rising oil prices, the banks and financial institutions that had helped fund some of the recent oil projects continue to be concerned about the prospect of delinquencies and defaults in the oil market. But oil prices have been just one of several influences on the financial sector. We believe that one other important driver to improved performance in the banking industry is the higher probability of a Fed rate increase.  While the market has been pricing in less than a 50/50 chance of a rate increase when the Fed meets September 20-21, that is much higher than it was a few months ago. Higher rates would improve bank margins.
We also believe that a small rate hike would be beneficial to net savers without adversely affecting the housing market or consumer spending – particularly if the job market remains strong. But on the downside, we also believe a rate hike could trigger an appreciation in the exchange rate of the dollar, which could affect the competitiveness of U.S. exporters and negatively impact short-term economic growth.
Tailwinds
Job growth has been strong the past two months, and oil prices rebounded somewhat from their July slump, but there was little else in the way of economic news to bolster hopes of an economic surge.
Wage growth has also been a tailwind this year, but that could become a headwind in 2017 if it continues to accelerate and impact corporate profit margins.
Expectations
We continue to temper our expectations for the stock market and the economy in the months ahead.  We think gross domestic product (GDP) growth will be slightly lower this year than it has been the past few years. GDP has edged up only 0.8% (on an annualized basis) in the first quarter and 1.2% in the second, according to a report issued July 29 by the U.S. Bureau of Economic Analysis (BEA).
The consensus outlook for GDP growth for all of 2016 is 1.5%, according to the August Blue Chip survey report, which is based on a monthly survey of more than 50 leading business economists.  We expect GDP growth to be closer to 1.0% for 2016.
Globally, over the next 12 months, we believe that China will have GDP growth of about 6% and Japan will have negative growth. We are fairly bullish on Europe despite its stagnant economy, and project GDP growth of about 1.6% this year. We are still concerned about economic growth in the U.K., which is continues to adjust to the repercussions from Brexit. (See: Regrexit: Britain's Brexit Challenges Far from Over)
Even though the economy in the U.S. is in a slow-growth mode, we are not projecting a recession in the near term, but we would like to see a rebound in consumer spending and a continuation of the strong job market. We also believe the economy could benefit from an increase in manufacturing output and corporate earnings. However, even if the economy enters a recession, we would not expect it to last very long. But we do believe the economy will remain sluggish through the rest of 2016.
Media contact: Callie Briese, 612-844-7340; callie.briese@thrivent.com
All information and representations herein are as of 08/31/2016, unless otherwise noted.
The views expressed are as of the date given, may change as market or other conditions change, and may differ from views expressed by other Thrivent Asset Management associates. Actual investment decisions made by Thrivent Asset Management will not necessarily reflect the views expressed. This information should not be considered investment advice or a recommendation of any particular security, strategy or product.  Investment decisions should always be made based on an investor's specific financial needs, objectives, goals, time horizon, and risk tolerance.
Indexes are unmanaged and do not reflect the fees and expenses associated with active management. Investments cannot be made directly into an index.
S&P 500® Index is an index of 500 stocks chosen for market size, liquidity and industry grouping, among other factors. The S&P 500 is designed to be a leading indicator of U.S. equities and is meant to reflect the risk/return characteristics of the large cap universe.
The NASDAQ (National Association of Securities Dealers Automated Quotations) is an electronic stock exchange with more than 3,300 company listings.
The MSCI EAFE Index measures developed-economy stocks in Europe, Australasia and the Far East.
West Texas Intermediate (WTI) is a grade of crude oil used as a benchmark in oil pricing.
Past performance is not necessarily indicative of future results.
---
Well that's unexpected - your subscription request was not submitted. Please try again.
Gain From Our Perspective
Get Our Investing Insights Newsletter in Your Inbox.
SUBSCRIBE NOW
Gain From Our Perspective
Get Our Investing Insights Newsletter in Your Inbox.
SUBSCRIBE
Thanks for Signing Up!
Be sure to check your inbox for the Investing Insights newsletter to get the latest news and insights from Thrivent Mutual Funds.
Great news - you're on the list!
Looks like you're already on our mailing list. Be sure to check your inbox for the Investing Insights newsletter to get the latest news and insights from Thrivent Mutual Funds.