Several disconcerting economic reports out of China triggered significant selloffs throughout global markets as worries grew that China's economic slowdown was greater than feared and could have far-reaching effects.
By the Numbers
Market activity in August, as reflected in the most common market indexes we follow.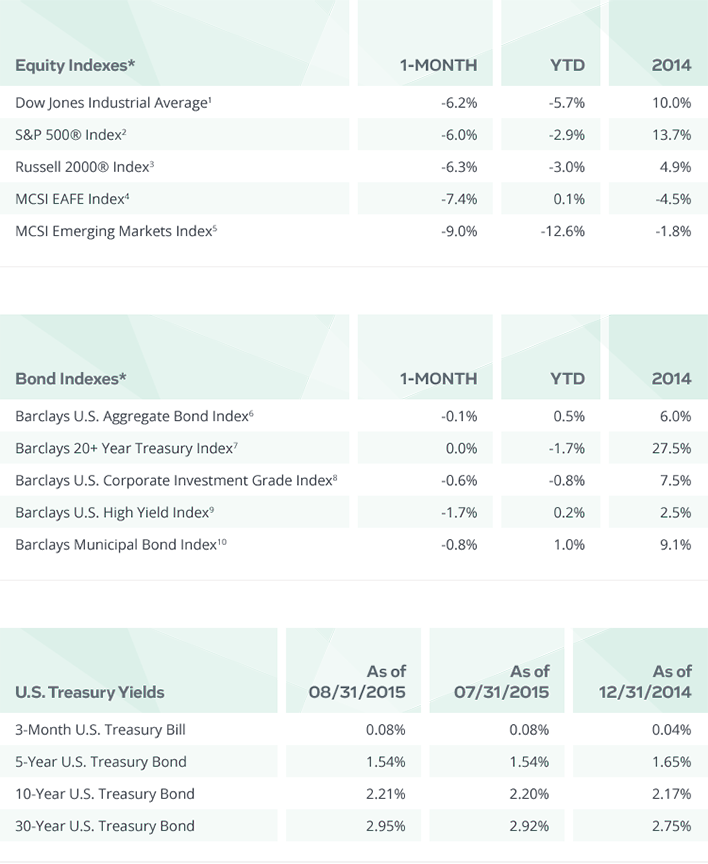 Slower Chinese Expansion Could Hinder Global Growth
China has dominated the investment news cycle for several months, beginning with the nearly 40% fall in its domestic stock markets earlier in the summer. One of the concerns then was that the market collapse wasn't just the bursting of a bubble after an incredible rally in the first half of the year, but rather a reflection of a more negative economic outlook than was previously anticipated. Other signs in August, including the surprise devaluation of the Chinese currency and disappointing economic data, reinforced that theory, and the volatility began to spill into markets across the globe, sending U.S. and European markets down around 10% in just five trading days, before a brief rally stemmed the losses. China's economy has long been booming and fueling global growth, and while market participants have been expecting a decline in the pace of its expansion, many are worried that the expected slowdown could turn into a crash landing with negative global economic consequences at a time when there are plenty of other challenges to go around. Since data reported by the Chinese government often need to be taken with a grain of salt, there is a lot of uncertainty surrounding the current strength of China's economy, and market uncertainty almost always leads to increased volatility.
The market correction possibly throws a wrench into the Federal Reserve's plans to begin raising its short-term lending rate. A few months ago, most investors were anticipating a September lift-off, but the recent turmoil has cast doubt on that timeline, even with a strong GDP report that showed the U.S. GDP rising by 3.7% in the second quarter. The Federal Open Market Committee meets next on Sept. 16 and 17, so we will likely know more soon after that.
Oil Prices Continue to Fluctuate
Another of the impacts of a slowing Chinese economy is the impact on commodities and emerging economies that rely on exporting their natural resources, much of which had been consumed by China during its boom years. Industrial metals like copper have taken a big hit while oil has continued its roller coaster ride. The first decline in oil prices late in 2014 was driven mostly by concerns of oversupply, but the demand side of the equation has been as significant of a factor since slowing global growth would depress demand levels. China's struggles certainly added to the latest wave of falling oil prices, but slowing growth has more of a short-term impact, albeit a highly visible one. Over a longer time window, the benefits of lower oil prices should translate to improvements in the broader global economy. Investors may be starting to recognize this disconnect as West Texas Intermediate crude oil prices spiked more than 20% from lows just below $40 a barrel, giving investors with a longer time horizon a brief reprieve and leading to hope that a bottom has been found. 
Well that's unexpected - your subscription request was not submitted. Please try again.
Gain From Our Perspective
Get Our Investing Insights Newsletter in Your Inbox.
SUBSCRIBE NOW
Gain From Our Perspective
Get Our Investing Insights Newsletter in Your Inbox.
SUBSCRIBE
Thanks for Signing Up!
Be sure to check your inbox for the Investing Insights newsletter to get the latest news and insights from Thrivent Mutual Funds.
Great news - you're on the list!
Looks like you're already on our mailing list. Be sure to check your inbox for the Investing Insights newsletter to get the latest news and insights from Thrivent Mutual Funds.
The views expressed are as of the date given, may change as market or other conditions change, and may differ from views expressed by other Thrivent Asset Management associates. Actual investment decisions made by Thrivent Asset Management will not necessarily reflect the views expressed. This information should not be considered investment advice or a recommendations of any particular security, strategy or product.  Past performance is not a guarantee of future results.  Investment decisions should always be made based on an investor's specific financial needs, objectives, goals, time horizon, and risk tolerance.
1The Dow Jones Industrial Average is an index of 30 "blue chip" stocks traded in the U.S.
2The S&P 500® Index is a widely followed index, and is composed of 500 widely held U.S. stocks.
3The Russell 2000® Index measures performance of small-cap stocks.
4The MSCI EAFE Index measures developed-economy stocks in Europe, Australasia and the Far East.
5The MSCI Emerging Markets Index measures developing-economy stocks.
6The Barclays U.S. Aggregate Bond Index measures performance of a wide variety of publicly traded bonds.
7The Barclays 20+ Year Treasury Index measures performance of longer maturity treasury bonds.
8The Barclays U.S. Corporate Investment Grade Index measures performance of the investment grade bond sector.
9The Barclays High Yield Index measures performance of the high yield bond sector.
10The Barclays Municipal Bond Index measures performance of the municipal bond sector.