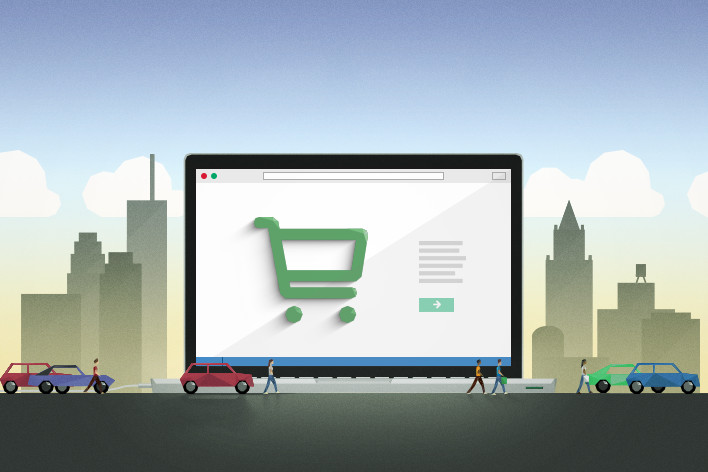 The mall was once considered America's new town square, a place where friends, families and teenagers enjoyed meeting, shopping and socializing. But now, in the age of social media, you could say the same thing about the Internet. As recent retail sales figures reveal, Americans continue to move away from the mall, spending more of their time socializing and shopping online.
Soft sales numbers for many of the nation's largest department stores through the first few months of 2016 highlight an ongoing trend in the retail business. As one department store chain after another released disappointing earnings reports for the first quarter of 2016, the sentiment toward the retail market became increasingly wary on Wall Street. Macy's, Kohl's, Nordstrom, the Gap, and JC Penney all reported a decline in sales.
But the recent U.S. Department of Commerce retail report on April sales told a much different, more bullish story. Despite reports of slow department store sales, overall retail sales grew by 1.3% compared with the previous month. Although part of that growth was attributed to a surge in car sales – up 3.2% from the previous month – the more enduring influence on lagging mall sales has been the steady growth of online sales, led by Amazon.
Online businesses (and other non-store retailers) reported a sales increase of 2.1% for April and 10.2% for the past 12 months. Heading the other direction, department store sales declined 1.7% for the most recent 12-month period.
Not all brick and mortar retailers are suffering, however. For instance, big box retailers such as Wal-Mart and Home Depot have managed to keep sales climbing even amidst the growth of Amazon and other online retailers. Part of that success has been their ability to develop their own online presence to complement their brick and mortar outlets. Home Depot reported a 21% increase in online sales in the first quarter.  
The big box firms that have failed to capitalize on the e-commerce trend may be paying the consequences. One such firm, Staples, which reported an increase in year-over-year online sales of only 1% in the first quarter, has seen a decline in its total sales and gross profit each of the past four years. 
In all, online sales now account for approximately 9.4% of all U.S. retail sales, up from about 1.3% 15 years ago. Amazon accounts for about 19% of all online sales (1.8% of all retail sales), up from 9% in 2000. 
Mall traffic, on the other hand, has declined 11 of the past 15 years, according to our analysis, and represents only about 75% of the traffic logged 15 years ago.
Running toward the fire?
Even though mall traffic continues to decline, many retailers continue to see themselves as "growth companies," and have been unwilling to stop building stores or to implement store closing initiatives. We believe much of the money retailers have devoted to new store openings would have been better spent building out their e-commerce presence. The problem is, many retailers initially saw e-commerce as a threat rather than an alternative sales channel. Instead of running toward the fire by expanding their online capabilities and implementing new sales strategies, they stayed in their comfort zone by continuing to expand their brick and mortar presence.
By contrast, Home Depot recognized the changing landscape early on and decided to cap its store base growth at 1 percent per year and boost its online efforts. The company has also focused on developing strategies designed to generate greater profits in its existing stores, such as adding seasonal offerings like Christmas lights and decorations.
Other retailers are experimenting with concepts designed to increase profits within their stores. CVS, for instance, has introduced "Minute Clinics" in about 1,100 of its stores. Customers can walk in without an appointment, receive a medical exam and, if necessary, get a prescription. The concept enhances CVS's offerings and adds value to its existing floor space.
In the future, we believe Amazon and other online sites will continue to chip away at the total retail sales market. By 2020, we project that online purchases will account for 17% of all U.S. retail sales.
The brick and mortar retailers who survive this historic sea change will be the ones who learn to adapt. It will take a continuing commitment to provide excellent service and to implement innovative new strategies at their stores—as well as pursuing a growing presence online. It will also help to have a management team that recognizes that the age old strategy of building the business by building more stores is unlikely to work as well in the new economy as it did in the old.  
All information and representations herein are as of June 1, 2016, unless otherwise noted.
The views expressed are as of the date given, may change as market or other conditions change, and may differ from views expressed by other Thrivent Asset Management associates. Actual investment decisions made by Thrivent Asset Management will not necessarily reflect the views expressed. This information should not be considered investment advice or a recommendation of any particular security, strategy or product.  Investment decisions should always be made based on an investor's specific financial needs, objectives, goals, time horizon, and risk tolerance.
This article refers to specific securities which Thrivent Mutual Funds may own. A complete listing of the holdings for each of the Thrivent Mutual Funds is available on ThriventFunds.com.
Well that's unexpected - your subscription request was not submitted. Please try again.
Gain From Our Perspective
Get Our Investing Insights Newsletter in Your Inbox.
SUBSCRIBE NOW
Gain From Our Perspective
Get Our Investing Insights Newsletter in Your Inbox.
SUBSCRIBE
Thanks for Signing Up!
Be sure to check your inbox for the Investing Insights newsletter to get the latest news and insights from Thrivent Mutual Funds.
Great news - you're on the list!
Looks like you're already on our mailing list. Be sure to check your inbox for the Investing Insights newsletter to get the latest news and insights from Thrivent Mutual Funds.