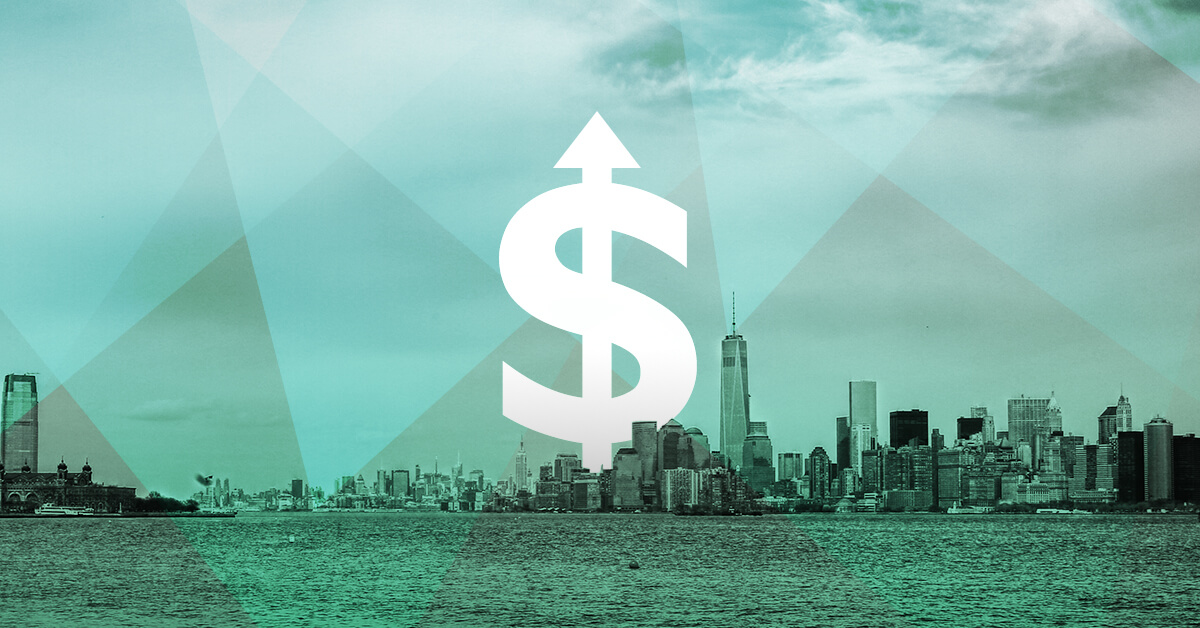 After six months of declines, oil prices finally started to recover in July, carrying the S&P 500 Energy sector to its first monthly gain of 2017.
The Energy sector was up 2.50% in July, but still down 10.43% for all of 2017. The gain in energy stocks came in conjunction with an 8.97% rise in oil prices, as West Texas Intermediate climbed from $46.04 per barrel to $50.17 during the month of July.
Financial stocks have also been on the rise the past two months after some relatively flat returns through the first few months of 2017. The Financial sector was up 6.43% in June and 1.72% in July as rising interest rates from two rate hikes by the Federal Reserve this year helped improve margins for banks and other financial institutions. Rising interest rates in Europe have also put upward pressure on U.S. rates.
Some of the leading financial institutions have posted improving earnings, with Goldman Sachs, Bank of America and Morgan Stanley all reporting higher than expected earnings in the most recent quarter. Strengthening of the automobile lending and credit card segments also contributed to the gains of the sector.
Here are some other highlights from the month, covered in more detail later in this report:
GDP growth improves. Gross Domestic Product (GDP) growth increased to a 2.6% annualized rate in the second quarter, a solid improvement over the 1.2% (revised) annualized GDP growth rate in the first quarter, according to the U.S. Department of Commerce GDP report issued July 28.
Retail sales dip. Retail sales in June slipped 0.2% from May, according to the U.S. Department of Commerce.
Employment gains solid. The economy added 222,000 new jobs in June, according to the U.S. Department of Labor.
Personal consumption jumps. Personal consumption expenditures were up 2.6% in the second quarter– the highest in two years – according to the July 28 U.S. Department of Commerce report.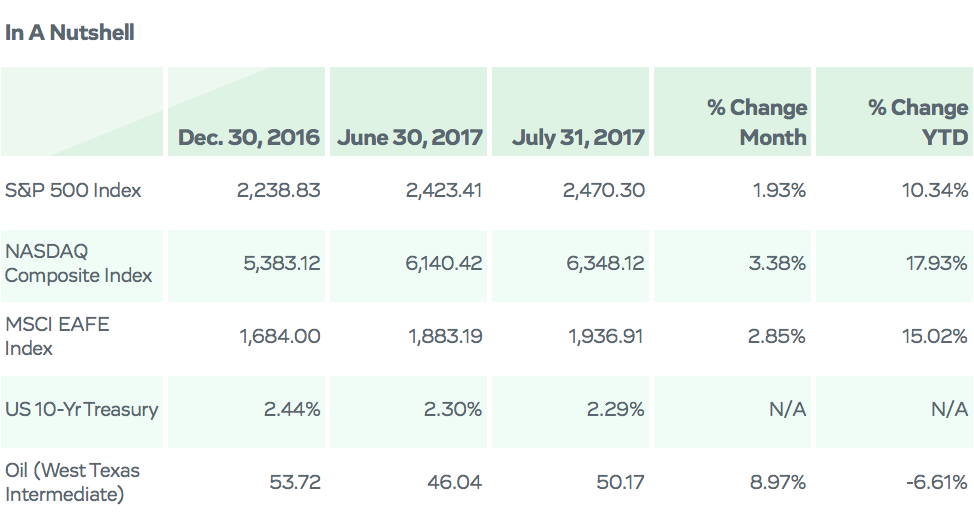 Drilling Down
U.S. Stocks Move up in July
Stocks experienced modest gains in July, with the S&P 500 up 1.93% for the month to 2470.30 from the June close of 2411.80. The S&P 500 is up 10.43% for the first seven months of 2017, with a total return of 11.59%.
The NASDAQ was up 3.38% in July, from 6140.42 at the close of trading in June to 6348.12 at the end of July. The NASDAQ is up 17.93% for the year.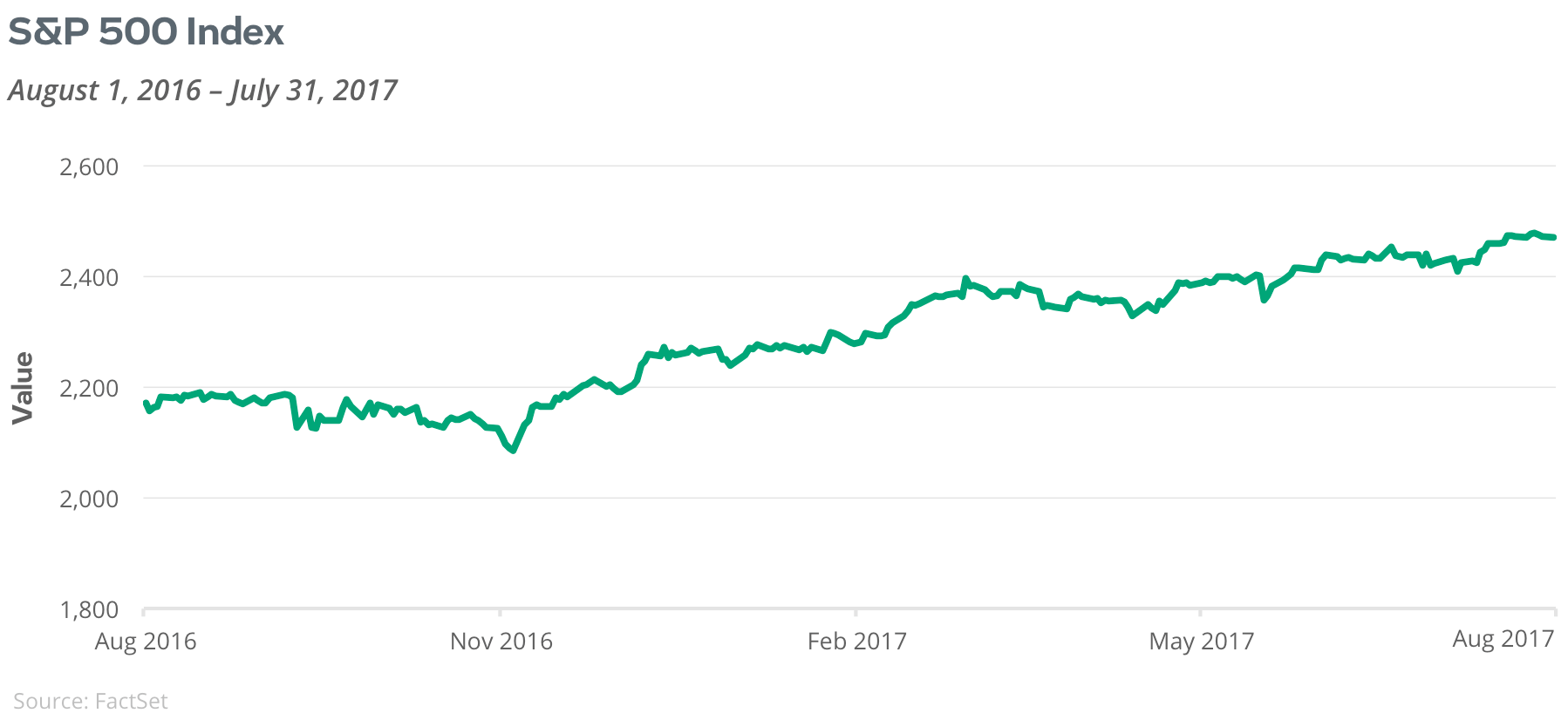 Employment Keeps Climbing
The job market was strong in June, adding another 222,000 jobs, according to the U.S. Department of Labor, Bureau of Labor Statistics Employment Situation report issued July 7. This was the 81st consecutive month of job growth.
The June figure is a marked improvement over the disappointing May report when only 138,000 jobs were added, and is particularly impressive in a tightening job market with an unemployment rate of just 4.4%. Initial jobless claims also remain at an extremely low level, with 248,000 claims during the week ending July 1, according to the Department of Labor Unemployment Insurance Weekly Claims report. Jobless claims have remained under 300,000 for 122 consecutive weeks – the longest stretch since 1970.
Wage growth, however, remains sluggish. Average hourly earnings for all employees on private nonfarm payrolls rose by just 4 cents to $26.25. Year-over-year, average hourly wages have risen by 63 cents, or 2.5%. Wages remain below pre-recession levels. The labor force participation rate for those in their prime working years (age 25-54) remained at 81.5%, which is about 1.5% below the pre-recession level. That continues to be a weakness in the employment recovery. (See: Employment Jumps in June with 222,000 New Jobs)
Retail Sales Still Slow
Retail sales were down 0.2% in June following a 0.1% decline in May, according to the latest Retail Sales Report issued July 14 by the U.S. Department of Commerce. Year-over-year sales were up only 2.8%, although three-month year-over-year sales from April through June were up 3.8%.
Sales at food service and drinking establishments, while still positive, have softened significantly. Nonstore retailers (primarily online) were up 9.2% year-over-year, while sporting goods, hobby, book and music stores were down 8.9% from last year. Department stores were down 0.7% for the month and down 3.9% since last year.
Building materials and garden supplies continued to be among the strongest segments, up 0.5% for the month and 5.1% year-over-year.
Sector Returns
The Financials and Energy were not the only sectors with solid performance in July. Telecommunications Services, which had posted dismal performance through the first six months of 2017, led all 11 S&P 500 sectors with a 6.36% gain for the month. However, the sector is still down 5.06% for the year.
Tech stocks continued their strong performance, with the Information Technology sector posting a 4.33% gain for the month.
The chart below shows the results for all 11 sectors: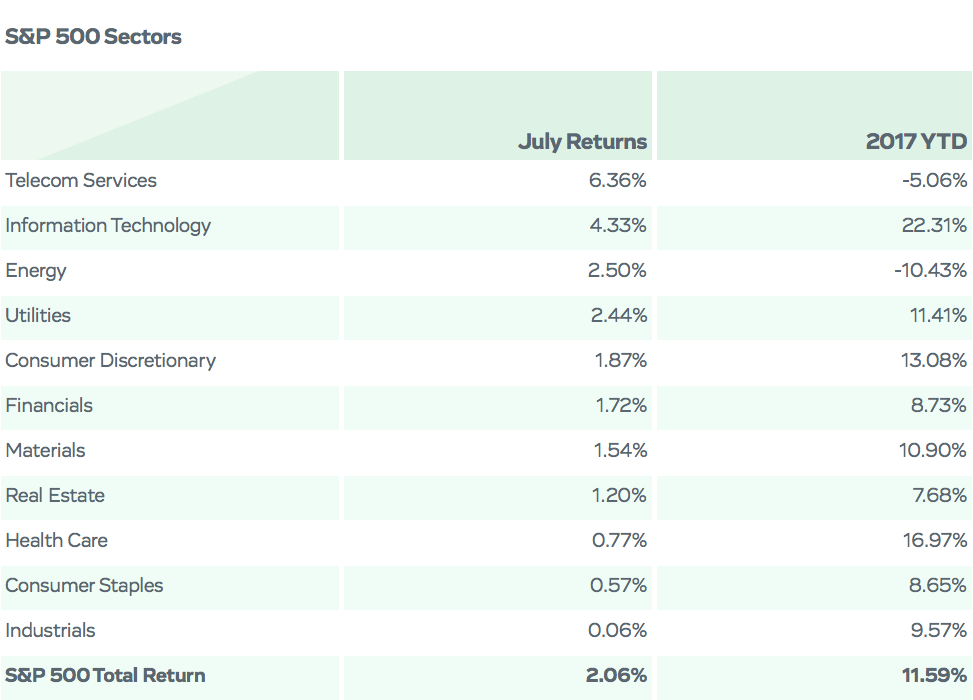 Bond Yields Stagnant
Market interest rates on 10-year U.S. Treasuries rose to nearly 2.4% in July before dipping back down to just 2.29% by the end of the month. That marked a 0.01% decline from the 2.30% yield at the close of June.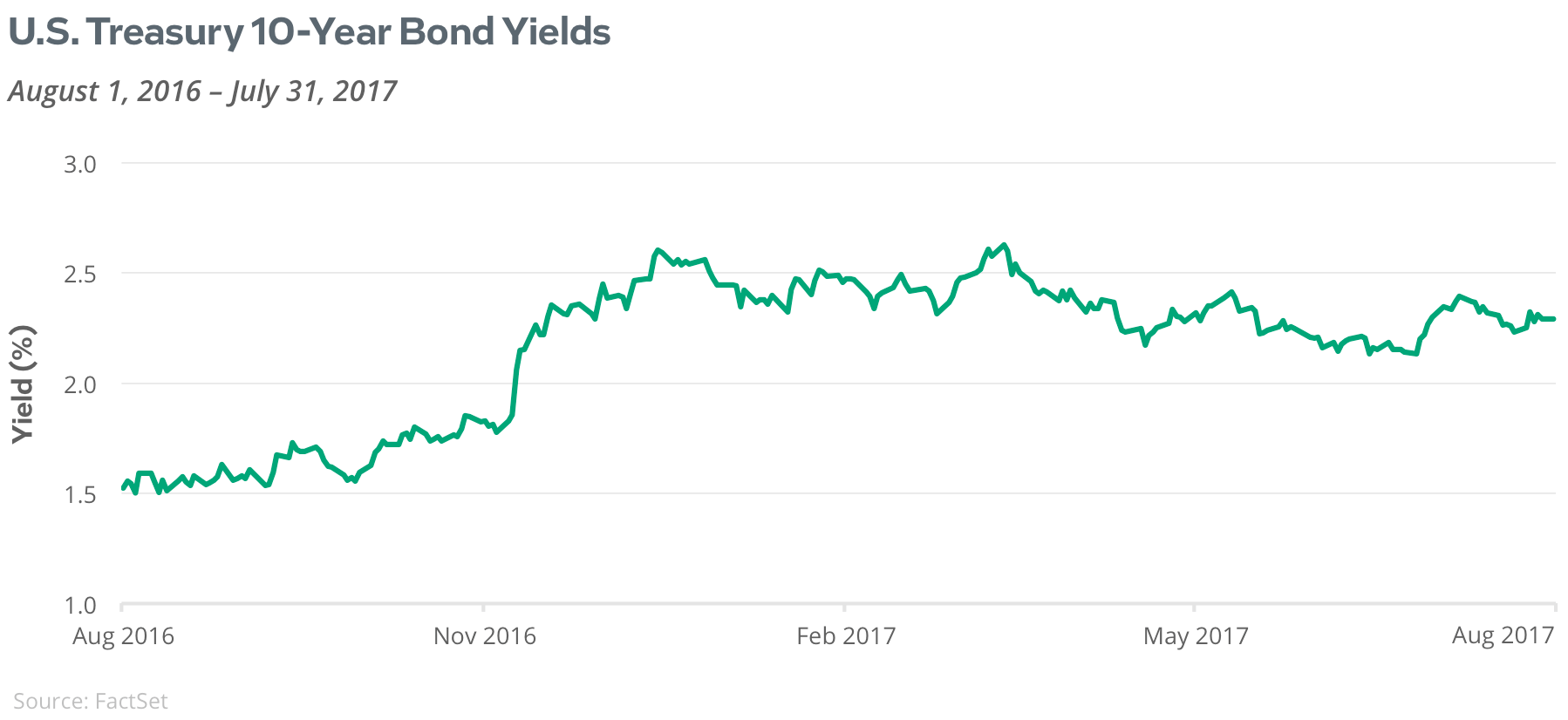 Euro and Yen Both Gain Versus Dollar
The Euro continued to move up versus the dollar in July, up 3.37% for the month. For the year, the dollar has dropped 11.78% versus the Euro, reversing a long upward trend by the dollar in recent years.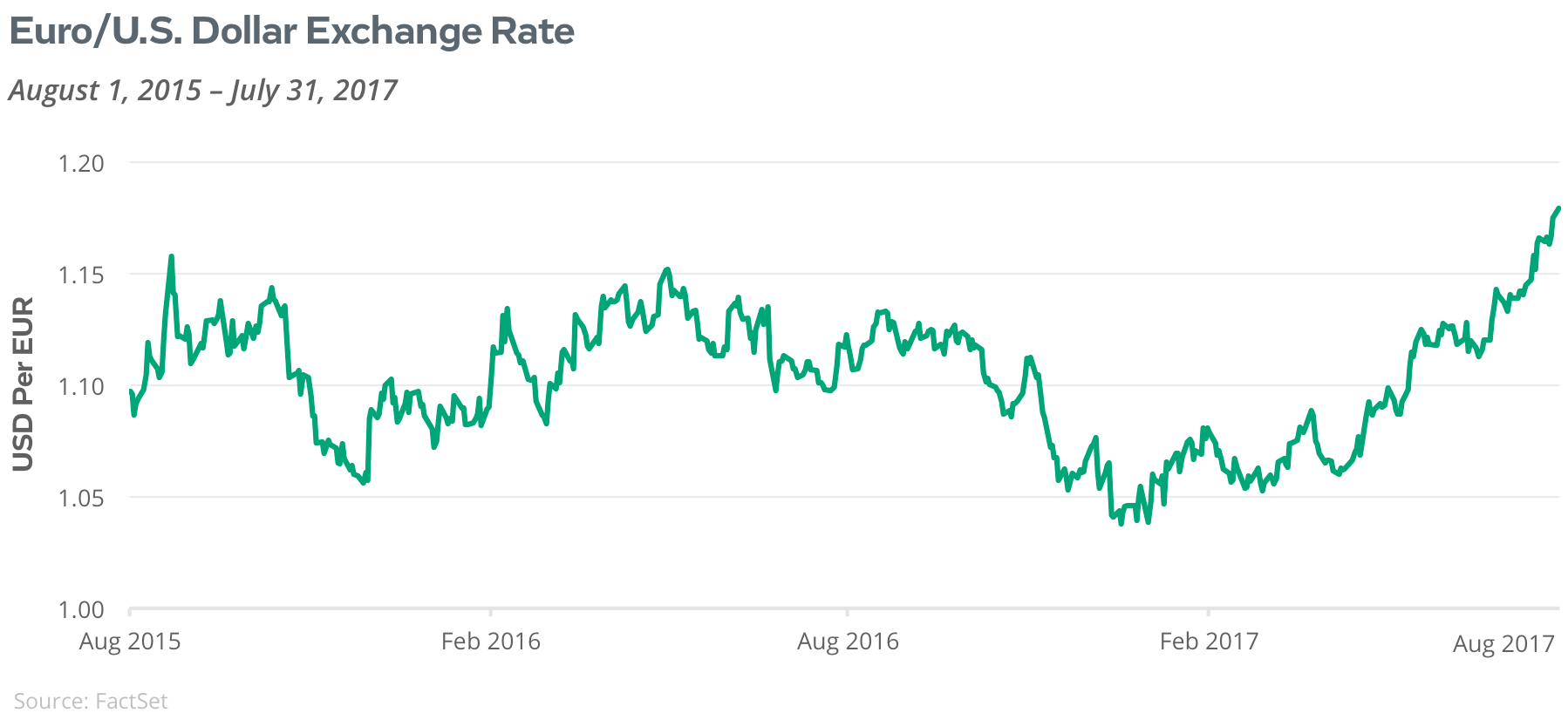 The Yen also improved against the dollar in July, up 1.66% for the month and 5.26% for the year.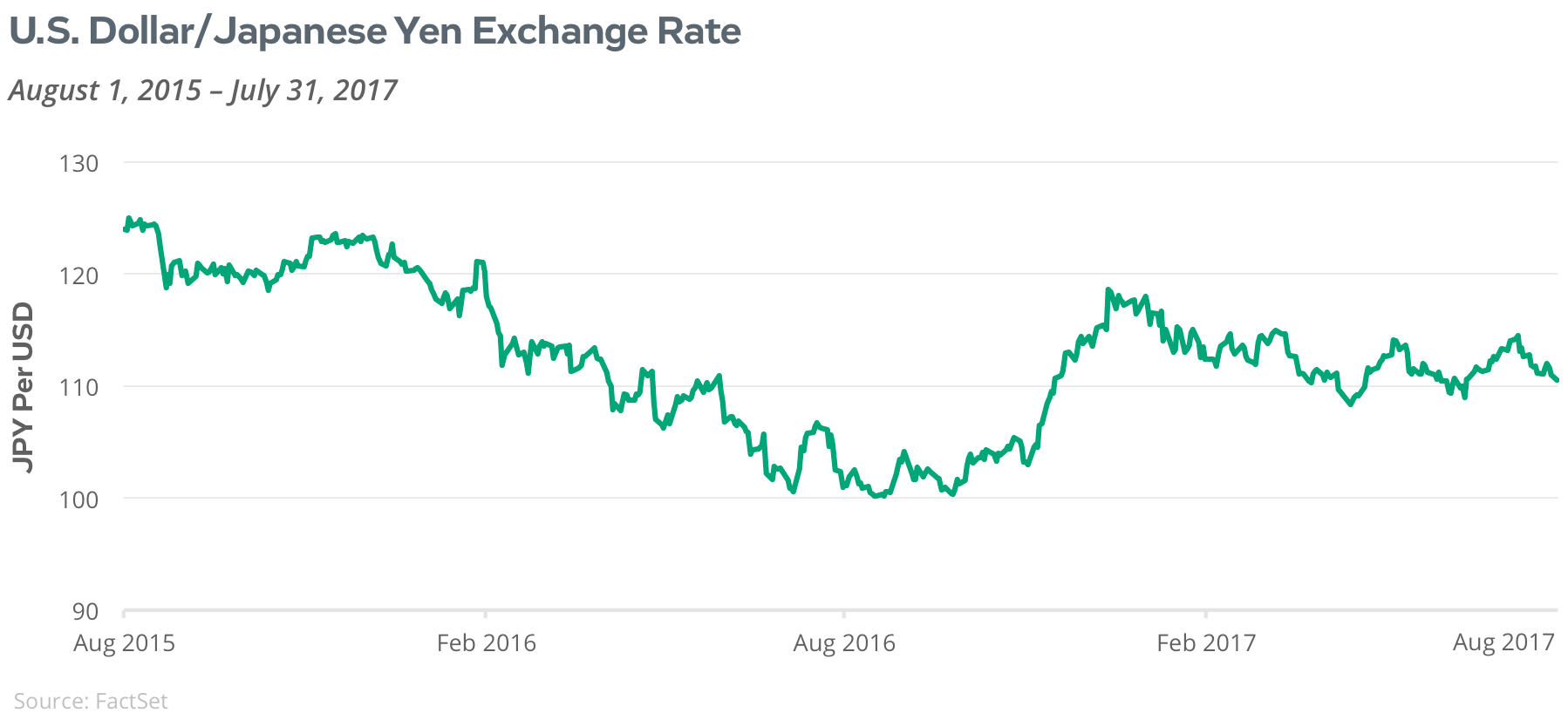 Oil Finally Reverses Slide
After a difficult six months, oil prices finally started to rebound in July, closing the month with an 8.97% gain, from $46.04 (West Texas Intermediate) at the June close to $50.17 at the end of July.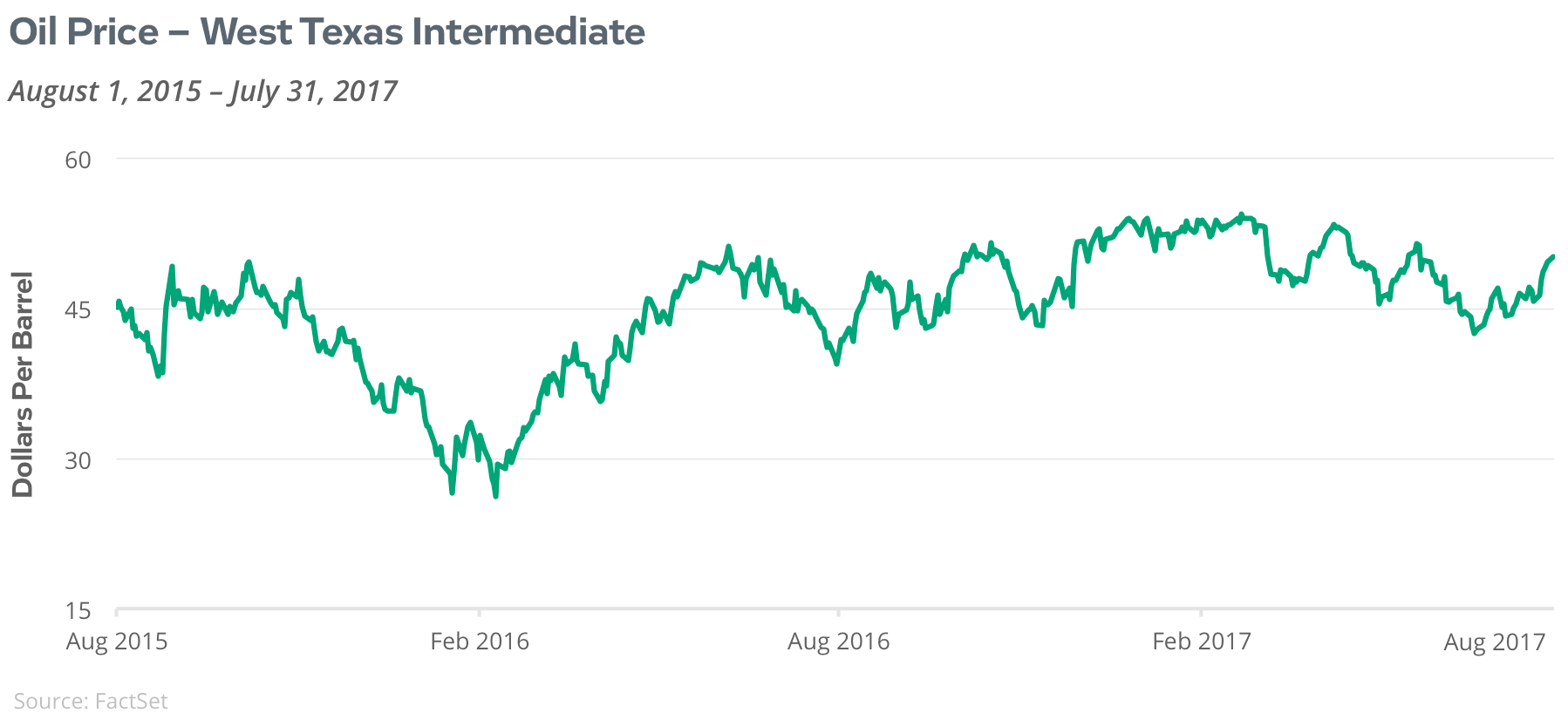 Gold Prices Up
Gold prices moved up in July, closing at 1,268.40 per ounce, up 2.1% from the June close of $1,242.30 per ounce.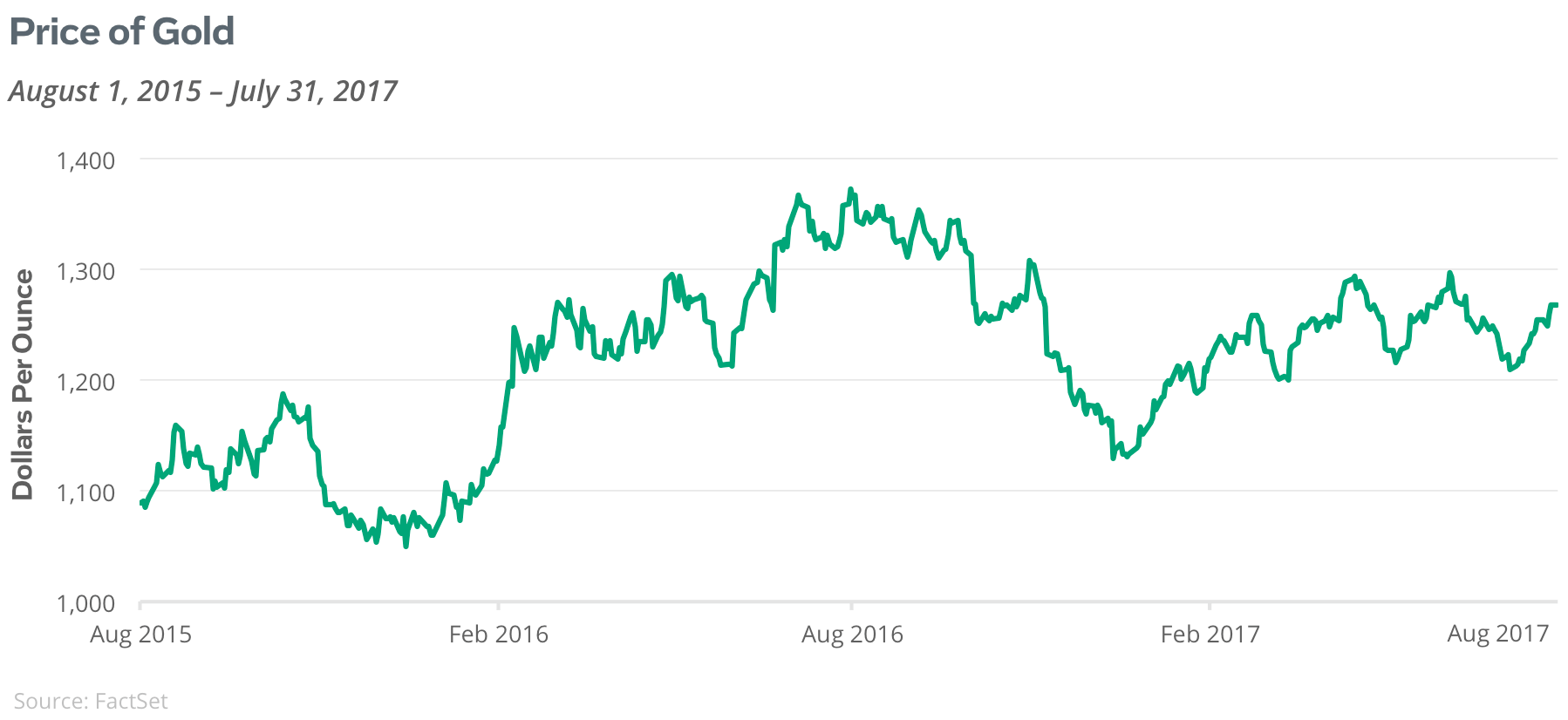 International Market Rises
The international stock market continued a solid year with another gain in July. The MSCI EAFE Index, which closed July 31 at 1,936.91, was up 2.85% from its June 30 close of 1,883.19. It is up 15.02% for the year.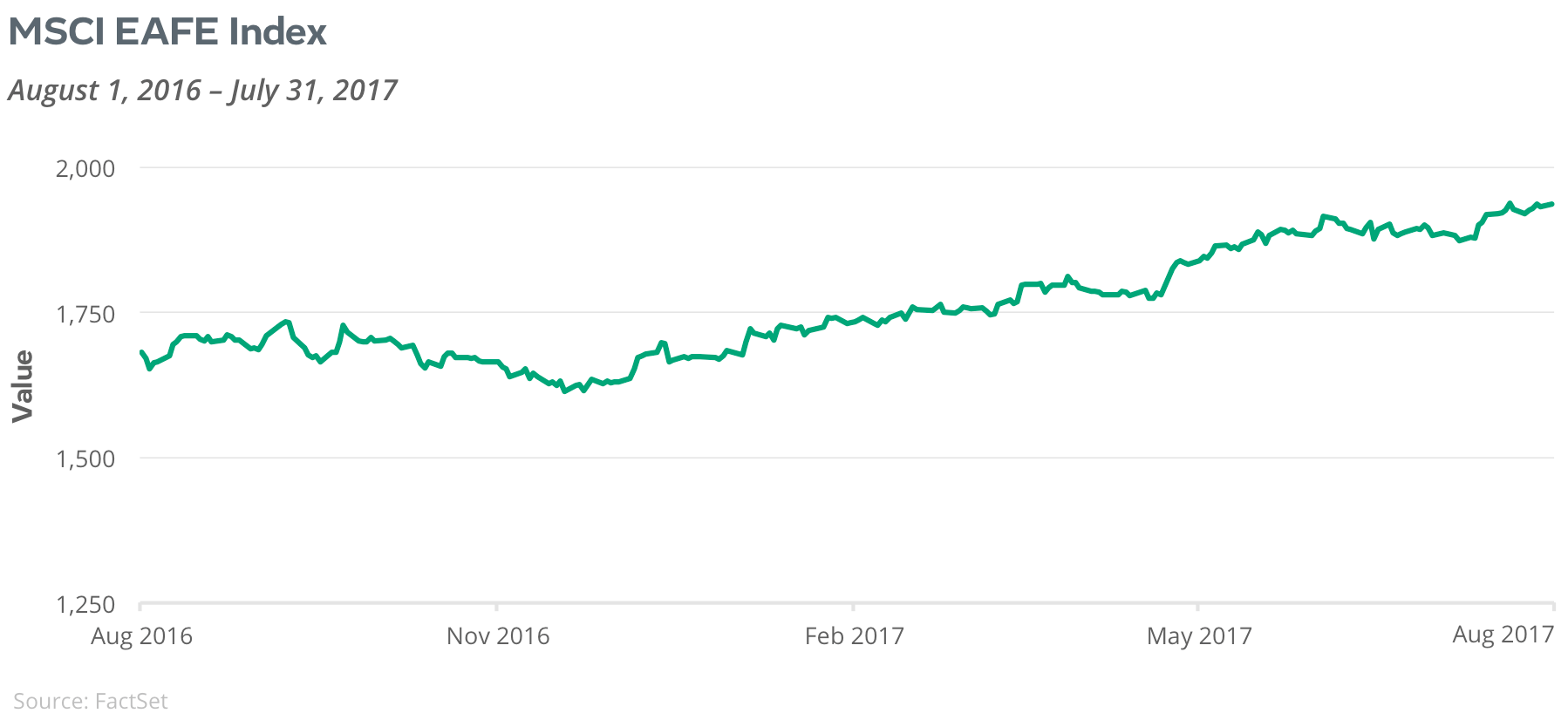 Here's what we see ahead for the economy and the markets:
Headwinds  
Retail sales have been slow the past two months, although personal spending has been improving this year. Despite improving corporate earnings, we're still seeing a weakness in manufacturing output and productivity growth.
We would also like to see more corporate investment in such areas as infrastructure, equipment and intellectual property.
Wages remain low and wage growth slow, despite a strong job market. We also remain concerned by the relatively low workforce participation rate among workers in their prime age of 25 to 54. (See: Where's My Raise? As Employment Climbs, Wage Growth Left Behind)
Some other areas that had been an impediment to the economy have shown improvement lately. Falling oil prices reversed course in July with an 8.97% increase, although oil prices are still relatively low. The Financial sector, which has been affected by historically low interest rates, has posted two solid months of growth, although we still see a deterioration of the fundamentals in the property and casualty insurance subsector. And the dollar, which had climbed significantly versus the Euro and the Yen in recent years, has declined versus both currencies throughout 2017, helping U.S. companies become more competitive abroad.

Tailwinds
The newly released GDP growth rate of 2.6% for the 2nd quarter was good news for the economy and indicates that things may be moving in the right direction.
Employment has grown for 81 straight months, with the unemployment rate at just 4.4%. Although the workforce participation rate is relatively low, it continues to improve as more Americans enter the workforce. Ultimately job growth could drive faster wage growth, which we believe would be good for the economy, aside from some inflation concerns. Personal consumption spending also improved in the second quarter.
The housing market has been solid this year, with strong building activity and recovering home prices in many parts of the country. The building supplies sector of the retail sales market has been among the strongest segments of the economy this year.
Corporate earnings appear to be experiencing modest improvement after a sluggish period, which could bode well for both the economy and the stability of the equity market.
As noted earlier, the Financial sector has seen improvement, with two Fed hikes this year. Short term interest rates have seen some improvement, aiding margins of many financial firms.
Expectations
The GDP growth rate of 2.6% annualized in the 2nd quarter was at the high end of our projections, which is a positive for the economy. Corporate earnings and revenue expectations appear to be rising this year, which could help support equities, while other economic factors, such as housing starts and employment have been solid.
Consumer spending and retail sales have been a mixed bag this year, but the strong gain in personal consumption spending in the 2nd quarter was a good sign. We believe the employment market will continue to add jobs this year, which should drive a much-needed increase in wages.
Inflation growth may edge up this year, particularly if the economy continues to improve, but we don't expect inflation to be an issue in the near term. The consensus view for inflation is 2.4% for 2017 and 2.3% for 2018,1 which is slightly higher than our projections. But faster wage growth and increasing consumer spending could add to the rate of inflation growth.
Although the economy appears to be strengthening, with three Fed rate hikes in the past eight months, we are not sure whether the Fed will make any additional rate hikes this year. (See: Fed Hikes Rates for Second Time this Year)
Globally, over the next 12 months, we estimate that China will have GDP growth of about 7%, Japan will have growth of 1.5%, Europe will have growth of about 2%, and the UK will grow about 3%.
The U.S. economy has been fairly strong recently, with a solid GDP growth rate in the 2nd quarter. We would like to see economic growth increase beyond that rate. Although we are not forecasting a recession, the risk of recession was high and rising several months ago. However, we believe that over the last several months the risk has been diminishing.
For the recovery to continue, we would like to see continuing growth in consumer spending, wages, and corporate earnings, as well as additional corporate investment in infrastructure. A modest rise in oil prices and interest rates could also lead to a stronger economy through the second half of 2017.
To see our Market Recaps every month and learn more about our perspective on the markets, the economy, and investing, subscribe to our Investing Insights newsletter.
Media contact: Callie Briese, 612-844-7340; callie.briese@thrivent.com
All information and representations herein are as of 08/01/2017, unless otherwise noted.
The views expressed are as of the date given, may change as market or other conditions change, and may differ from views expressed by other Thrivent Asset Management associates. Actual investment decisions made by Thrivent Asset Management will not necessarily reflect the views expressed. This information should not be considered investment advice or a recommendation of any particular security, strategy or product.  Investment decisions should always be made based on an investor's specific financial needs, objectives, goals, time horizon, and risk tolerance.
Indexes are unmanaged and do not reflect the fees and expenses associated with active management. Investments cannot be made directly into an index.
S&P 500® Index is an index of 500 stocks chosen for market size, liquidity and industry grouping, among other factors. The S&P 500 is designed to be a leading indicator of U.S. equities and is meant to reflect the risk/return characteristics of the large cap universe.
Dow Jones Industrial Average (Dow) is an index that shows how 30 large publicly owned companies based in the United States have traded during a standard trading session in the stock market.
The NASDAQ (National Association of Securities Dealers Automated Quotations) is an electronic stock exchange with more than 3,300 company listings.
The MSCI EAFE Index measures developed-economy stocks in Europe, Australasia and the Far East.
West Texas Intermediate (WTI) is a grade of crude oil used as a benchmark in oil pricing.
Past performance is not necessarily indicative of future results.
---
1 Organization for Economic Cooperation and Development
Well that's unexpected - your subscription request was not submitted. Please try again.
Gain From Our Perspective
Get Our Investing Insights Newsletter in Your Inbox.
SUBSCRIBE NOW
Gain From Our Perspective
Get Our Investing Insights Newsletter in Your Inbox.
SUBSCRIBE
Thanks for Signing Up!
Be sure to check your inbox for the Investing Insights newsletter to get the latest news and insights from Thrivent Mutual Funds.
Great news - you're on the list!
Looks like you're already on our mailing list. Be sure to check your inbox for the Investing Insights newsletter to get the latest news and insights from Thrivent Mutual Funds.