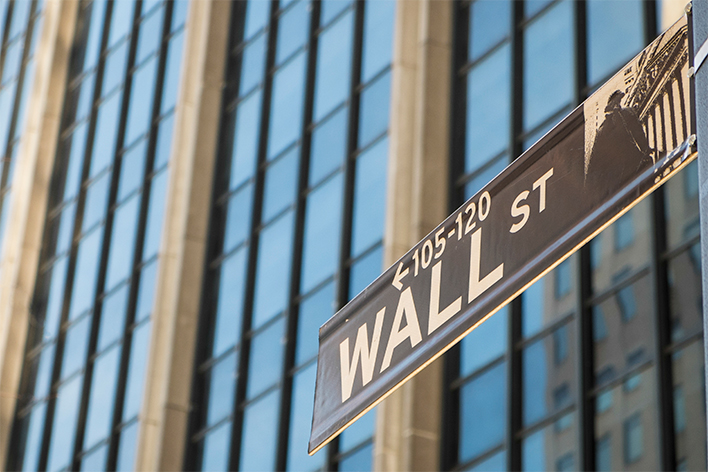 A robust employment report for February from the U.S. Department of Labor flies in the face of some of the dour economic forecasts issued earlier this year that drove stock prices down almost across the board.
The new report, which announced an increase of 242,000 non-farm jobs last month, represented only half of the good news on the labor front. Earlier jobs reports from December and January were also revised upward by 30,000 jobs. 
The combination of the February jobs data and the revised numbers from earlier months paints a much more upbeat picture of the state of the economy than earlier speculation had indicated. Fears over a slowing economy helped push the S&P 500 down about 10 percent through the first month and a half of 2016 before a recovery pushed the market back up through the second half of February. 
The employment growth figures over the past three months are roughly in line with the type of job growth the country has experienced since the recovery began.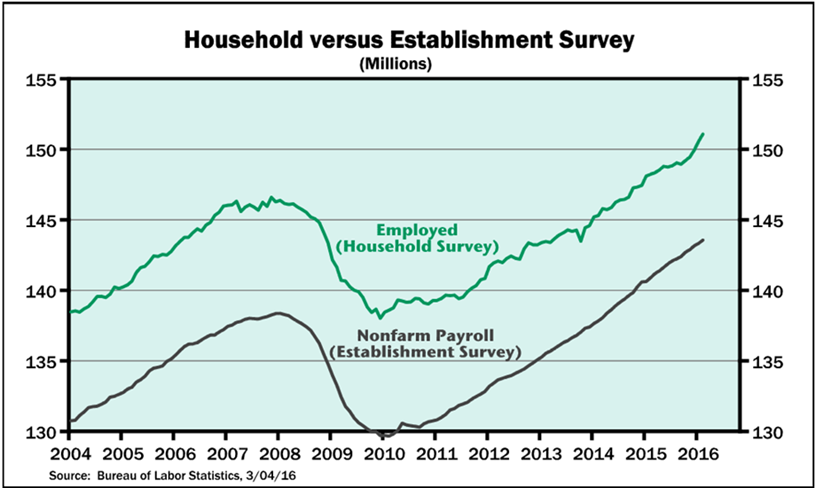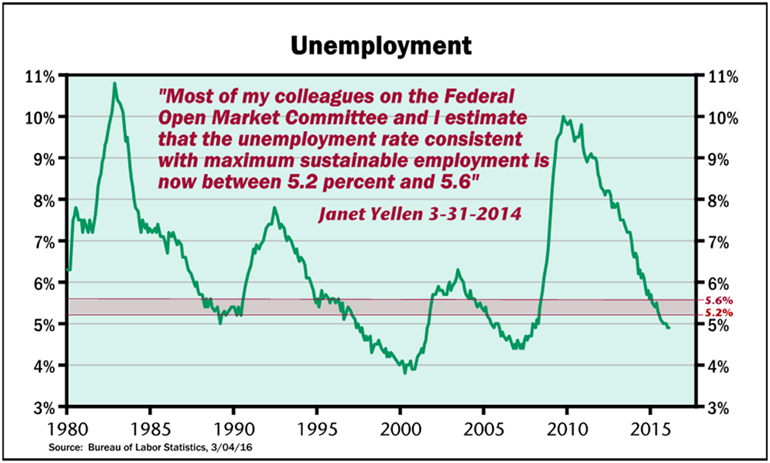 The unemployment rate remained at 4.9 percent, but that masks encouraging improvement on a couple of fronts:
The number of newly employed reached 530,000 (which is similar to non-farm payrolls, but on a wider scale), which was roughly similar to the number entering the work force (555,000).
The labor participation rate of people in their prime working years of 25 to 54 is also showing signs of improvement. That number declined about 2 percent following the recession—and has notshown any sustained recovery—but there are subtle indications that even that measure may be improving. Although it is too early to say definitely, the numbers have been moving up the past few months after hitting a record low last September.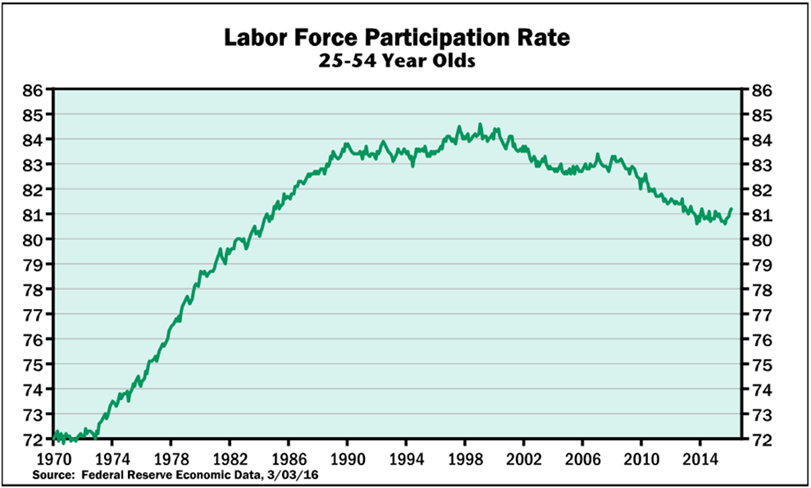 While the new report presents some optimistic signs, there are some lingering areas of weakness: 
The number of people working part-time who would prefer to work full time has been declining, but still has plenty of room for further improvement.
The number of long-term unemployed individuals remains at an elevated level. 
There was a three-cent drop in average hourly earnings, although that can be rationalized in part by a quirk in the calendar and the growth of lower-paying retail and restaurant jobs. In fact, compared with a year ago, the average hourly earnings rate has increased by 2.2 percent.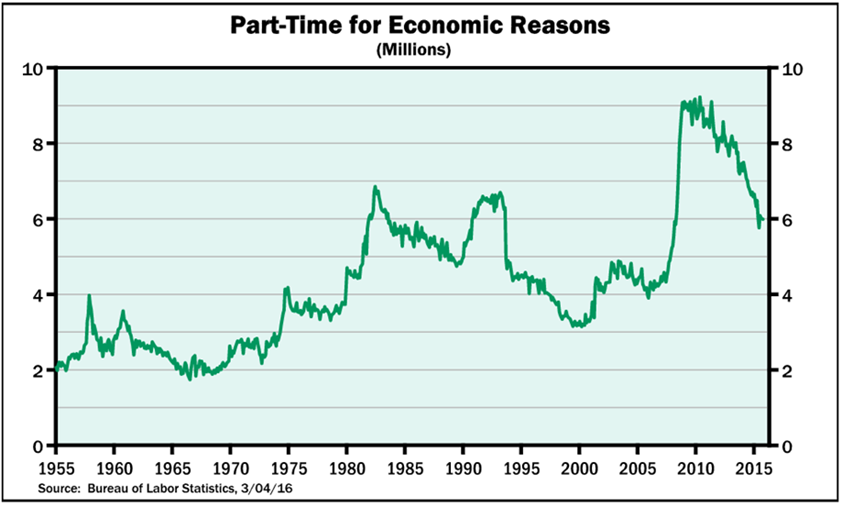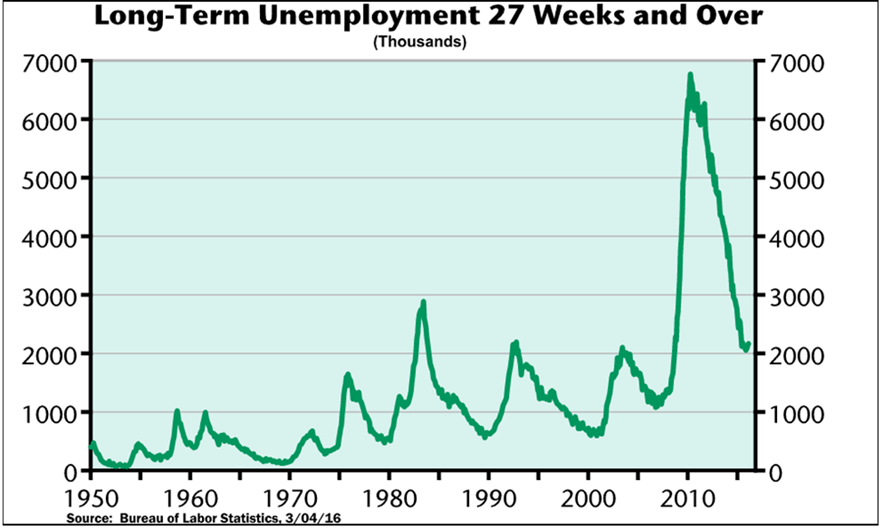 Leading Indicators to Watch
Two leading indicators bear further monitoring to make a more complete assessment of the strength of the job market:
Average work week. The average work week declined slightly, but that was from a level that had already exceeded the average level preceding the recession.
Initial unemployment claims—weekly count. The level of new unemployment claims has declined to an extraordinarily low level, particularly considering the population growth. The important consideration with this indicator is not the level itself, but any perceived change in direction. While the numbers have moved up slightly in recent weeks, the movement was not significant enough to signal a clear change of direction.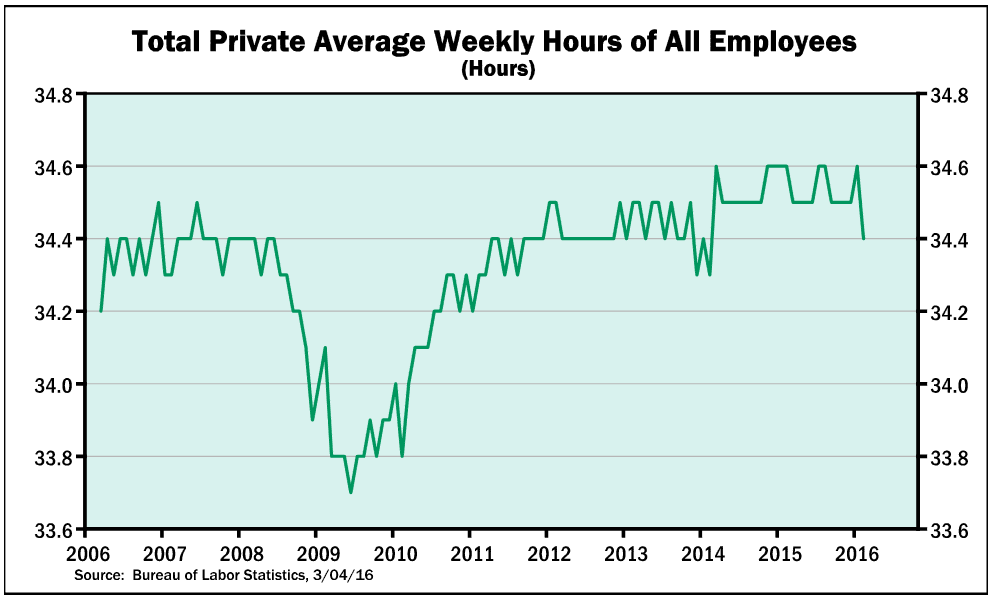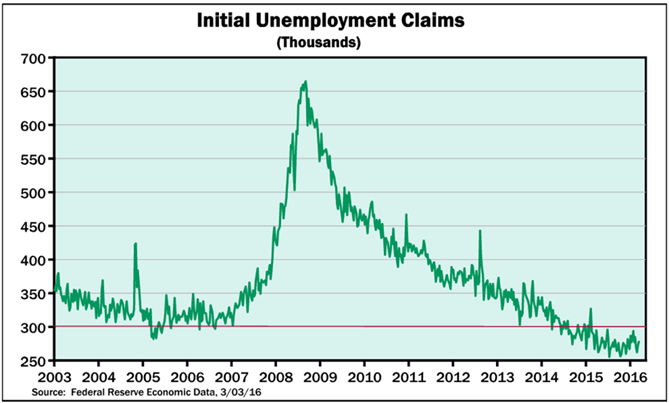 The robust employment growth numbers would seem to counter speculation over a weakening economy. With an increase in employment last month of nearly a quarter million Americans, it would appear that the economic expansion is still on track.
All information and representations herein are as of March 4, 2016, unless otherwise noted.
The views expressed are as of the date given, may change as market or other conditions change, and may differ from views expressed by other Thrivent Asset Management associates. Actual investment decisions made by Thrivent Asset Management will not necessarily reflect the views expressed. This information should not be considered investment advice or a recommendation of any particular security, strategy or product.  Investment decisions should always be made based on an investor's specific financial needs, objectives, goals, time horizon, and risk tolerance.
S&P 500® Index is an index of 500 stocks chosen for market size, liquidity and industry grouping, among other factors. The S&P 500 is designed to be a leading indicator of U.S. equities and is meant to reflect the risk/return characteristics of the large cap universe.
Well that's unexpected - your subscription request was not submitted. Please try again.
Gain From Our Perspective
Get Our Investing Insights Newsletter in Your Inbox.
SUBSCRIBE NOW
Gain From Our Perspective
Get Our Investing Insights Newsletter in Your Inbox.
SUBSCRIBE
Thanks for Signing Up!
Be sure to check your inbox for the Investing Insights newsletter to get the latest news and insights from Thrivent Mutual Funds.
Great news - you're on the list!
Looks like you're already on our mailing list. Be sure to check your inbox for the Investing Insights newsletter to get the latest news and insights from Thrivent Mutual Funds.