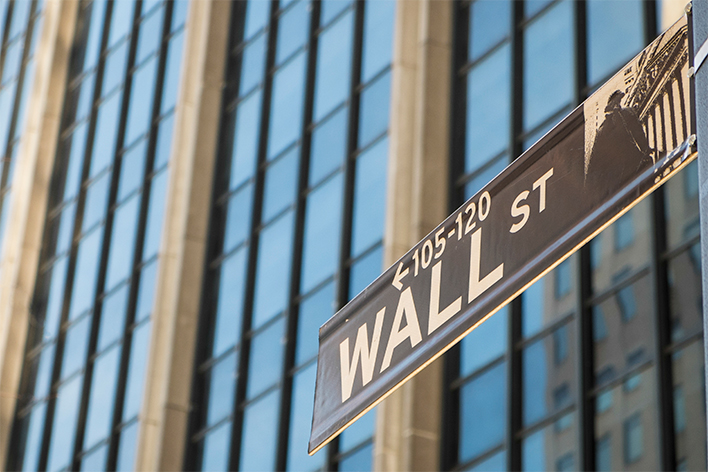 Employment continued to rise in May, but by the lowest total since September 2010 at just 38,000 new nonfarm payroll jobs, according to the U.S. Department of Labor Employment Report issued June 3.  While the unemployment rate dropped by 0.3% to just 4.7% – the lowest rate since November 2007 – the decline was due to the fact that 458,000 people dropped out of the workforce and were no longer counted among the unemployed.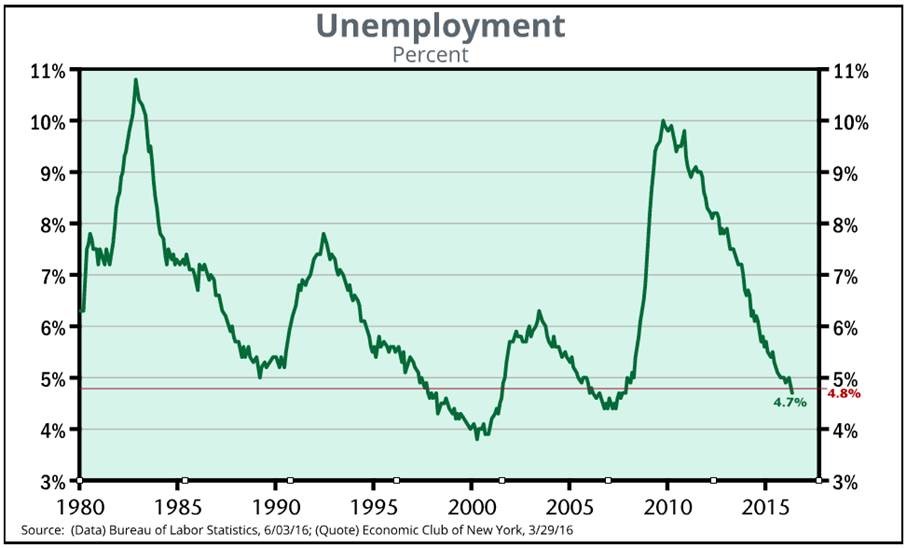 Although the new unemployment rate is even lower than the 4.8% rate that Janet Yellen, Federal Reserve Chair, had suggested represented "full employment," the circumstances under which that figure was reached – and the addition of just 38,000 nonfarm jobs for the month – will likely give the Fed pause in considering another interest rate hike this month or next.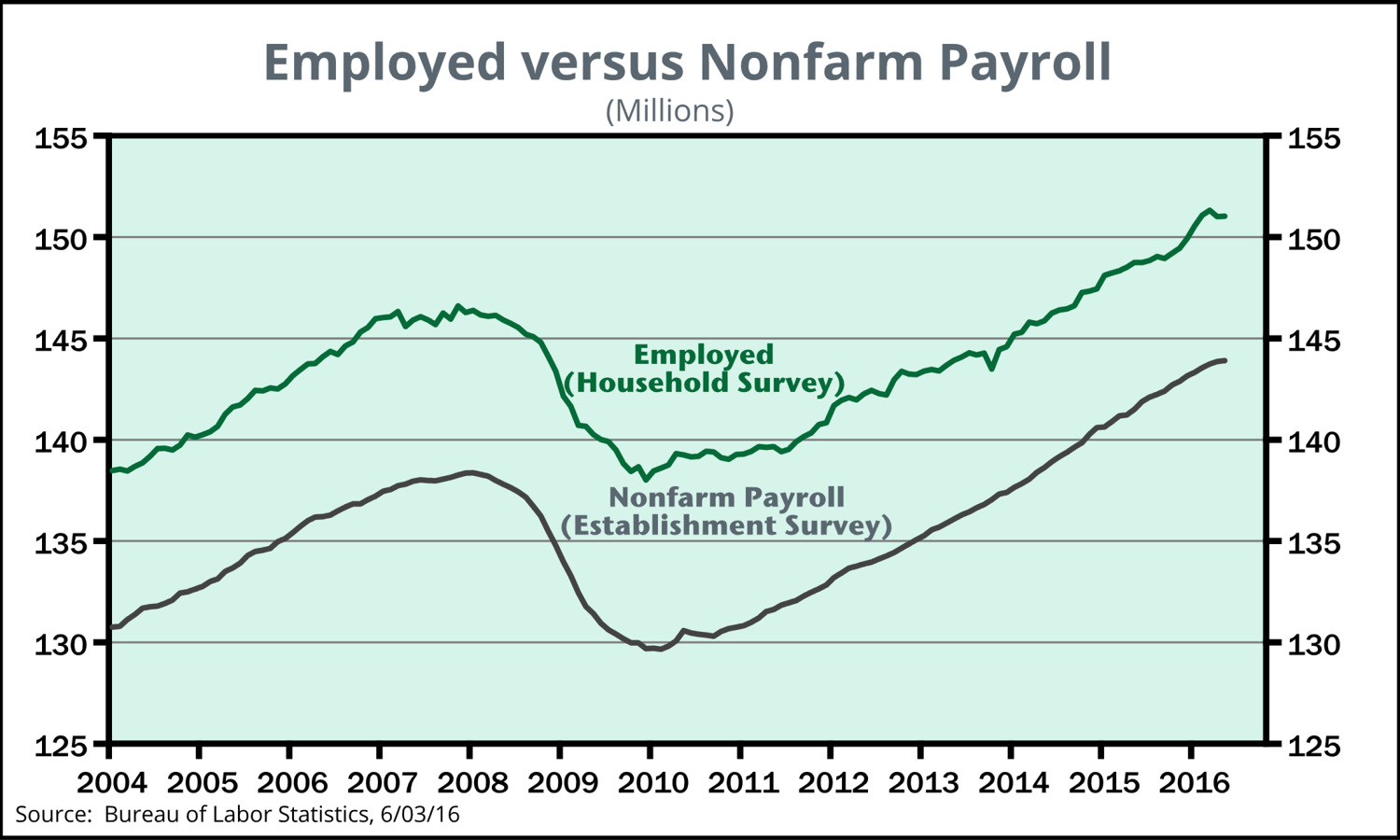 This was the second consecutive month of sub-par job growth, following the addition of just 123,000 new jobs in April (revised down from 160,000 in the initial report). In the past 12 months prior to April, job growth had averaged about 230,000 new jobs per month.
Part of the slow-down in job growth in May was a result of the Verizon strike, which accounted for 34,000 jobs coming off the payroll, although those jobs should be added back in June. Manufacturing and mining jobs also fell in May. Mining lost 10,000 jobs, bringing to 207,000 jobs lost in the mining industry since September 2014, while durable goods manufacturing lost 18,000 jobs. 
Here are some other highlights from the employment report: 
The number of long-term unemployed (those jobless for 27 weeks or more) remains at a historically high level even though the number declined by 178,000 to 1.9 million in May.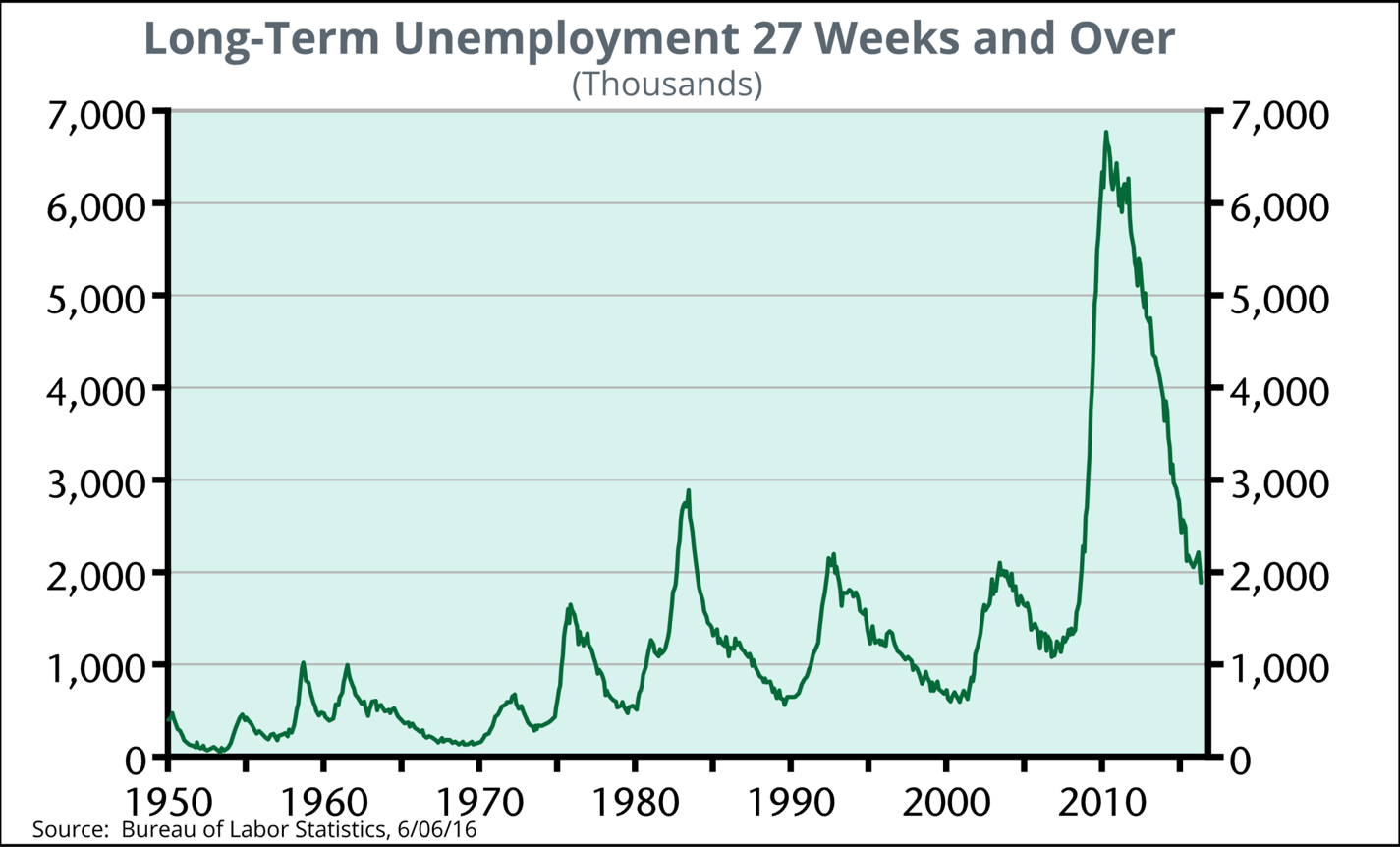 The civilian labor force participation rate decreased by 0.2 percentage points to 62.6%. The participation rate among 25 to 54 year-olds, which appeared to be improving this spring, has now been reversed, according to the report.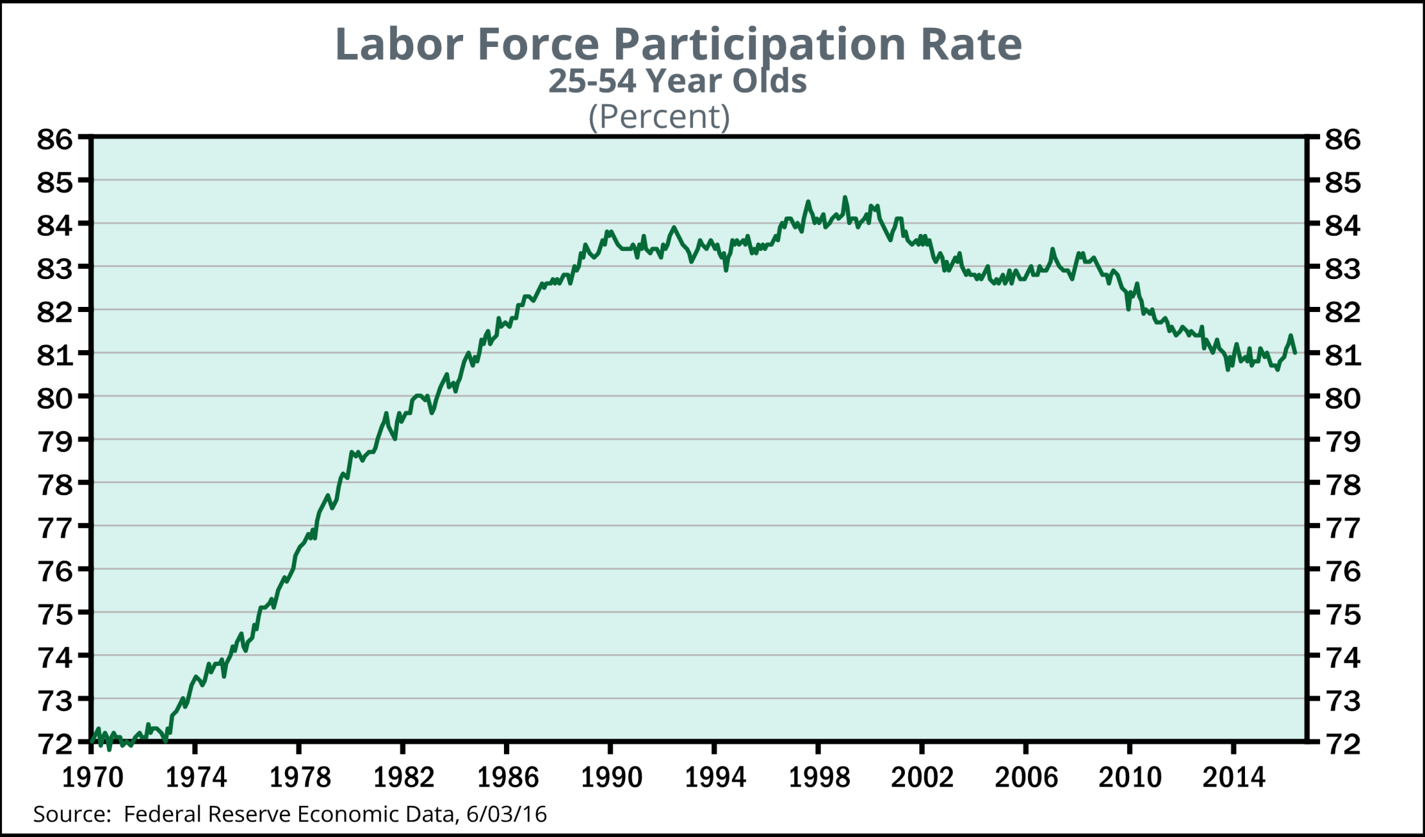 The employment-population ratio of 59.7% was unchanged.
Average hourly earnings for all employees on private nonfarm payrolls increased by 5 cents to $25.59 following an increase of 9 cents in April. Over the year, average hourly earnings have increased by 2.5 percent. 
Part-time employees looking for full-time work also reversed course after some encouraging months, increasing by 468,000 to 6.4 million in May, and remains at a historically high level. The Department of Labor defines this segment as "individuals, who would have preferred full-time employment, were working part-time because their hours had been cut back or because they were unable to find a full-time job."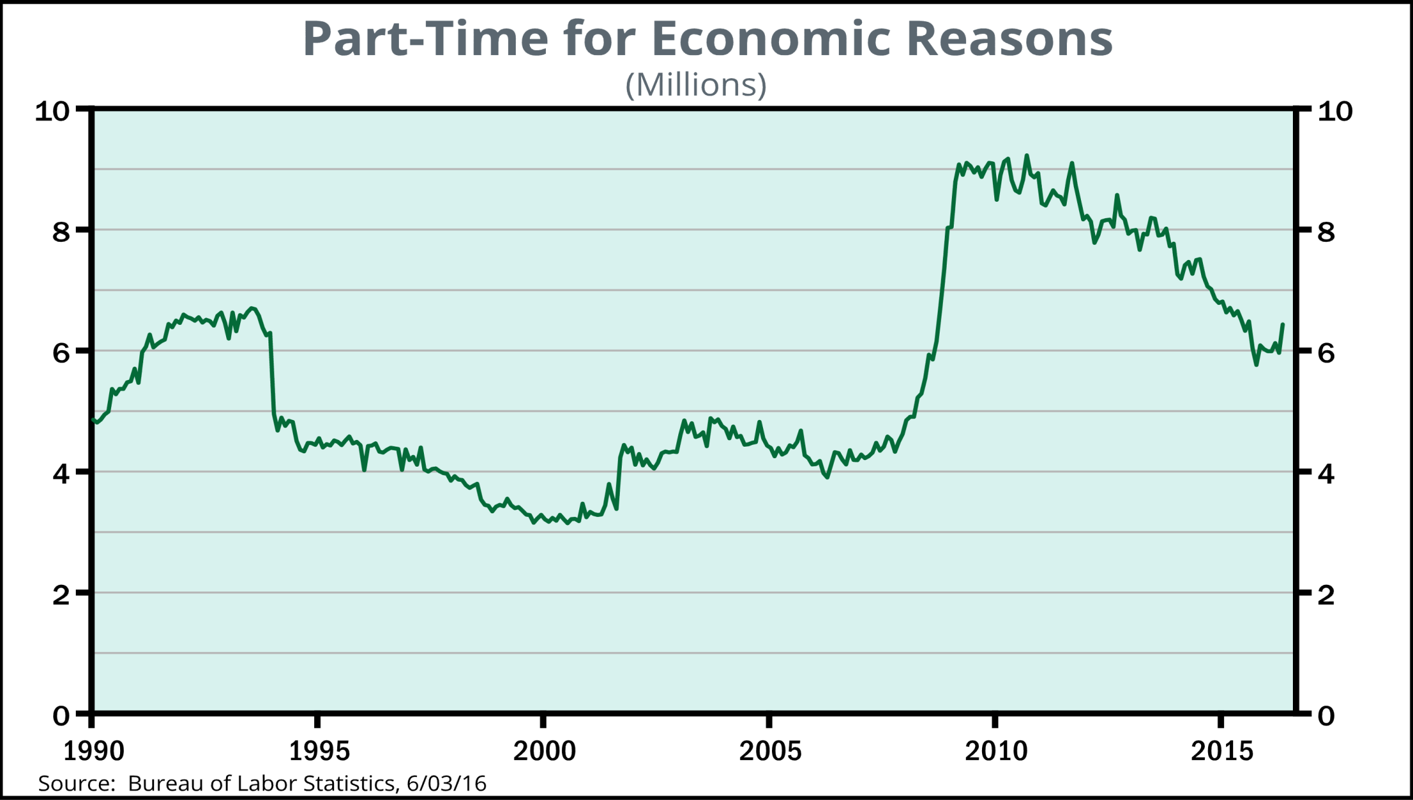 Among the marginally attached, there were 538,000 discouraged workers in May, essentially unchanged from a year earlier. The Department of Labor defines discouraged workers as "persons not currently looking for work because they believe no jobs are available for them." The remaining 1.2 million persons marginally attached to the labor force had not searched for work for reasons such as school attendance or family responsibilities.
While the continued employment expansion has been one of the major themes of the recovery, we believe there is still considerable opportunity for improvement in several key areas. We expect gross domestic product (GDP) growth this year to be below the rate of the past several years (but not negative), and employment is likely to remain soft, as well.
All information and representations herein are as of June 6, 2016, unless otherwise noted.
The views expressed are as of the date given, may change as market or other conditions change, and may differ from views expressed by other Thrivent Asset Management associates. Actual investment decisions made by Thrivent Asset Management will not necessarily reflect the views expressed. This information should not be considered investment advice or a recommendation of any particular security, strategy or product.  Investment decisions should always be made based on an investor's specific financial needs, objectives, goals, time horizon, and risk tolerance.
Well that's unexpected - your subscription request was not submitted. Please try again.
Gain From Our Perspective
Get Our Investing Insights Newsletter in Your Inbox.
SUBSCRIBE NOW
Gain From Our Perspective
Get Our Investing Insights Newsletter in Your Inbox.
SUBSCRIBE
Thanks for Signing Up!
Be sure to check your inbox for the Investing Insights newsletter to get the latest news and insights from Thrivent Mutual Funds.
Great news - you're on the list!
Looks like you're already on our mailing list. Be sure to check your inbox for the Investing Insights newsletter to get the latest news and insights from Thrivent Mutual Funds.