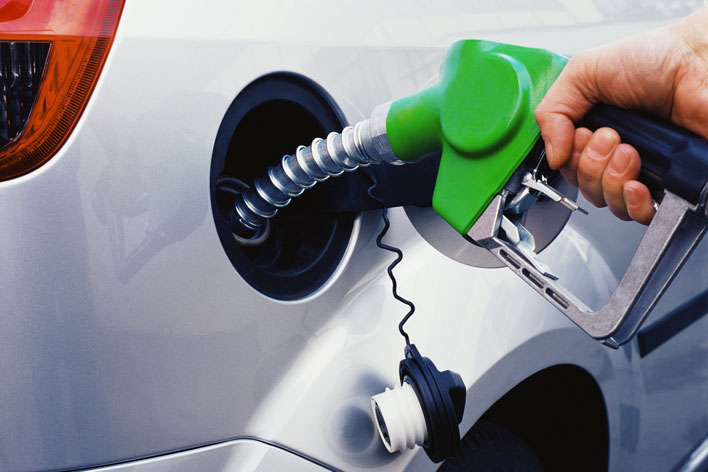 The impact of rising oil prices can be a confusing paradox. 
On one hand, consumers have greeted higher prices at the pump with all the enthusiasm of a flu outbreak. But on Wall Street, the rising cost of a barrel of oil helped rally a struggling stock market to five consecutive weeks of gains through March 25, 2016.
The deep drop in gasoline prices over the past two years not only put some extra money in the pockets of consumers, it also padded the profit margins of industries that consume large quantities of fuel, such as the airlines, shipping and transportation companies, and certain manufacturing and distribution businesses.
The auto industry has also seen a spike in sales of some of its higher priced vehicles, such as pick-up trucks and SUVs, that correlates directly to lower gas prices.
So, given the all the benefits of lower gasoline prices, why did Wall Street react positively to rising oil prices by driving up the stock and high yield bond markets? Is the U.S. economy actually better off with higher oil prices?
Drilling down on oil's impact
Crude oil prices reached a high of about $112 per barrel in August 2013 before slumping all the way to under $27 in late January of this year as production levels persistently outpaced demand. 
Gasoline prices meantime, dropped from around $4 a gallon in 2013 to under $1.50 a gallon in many markets in early 2016. Since then, prices have moved back up to about $2 per gallon.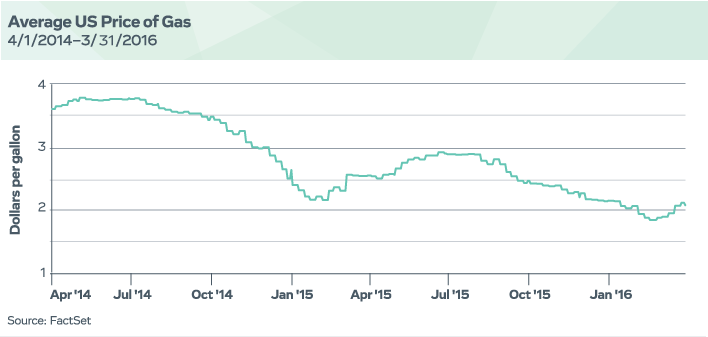 Although low gasoline prices do, indeed, have some positive economic benefits, those benefits don't all have an instant impact on the economy. For instance, consumers have saved billions of dollars at the pump with the lower prices, but our research indicates that they have used much of that money to pay off debt or add to their savings rather than to pour it back into the economy through additional consumer spending. 
On the other hand, the negative factors of falling oil prices have had a quicker effect on several areas of the economy:
The oil slump has hurt the global economy due to losses in the leading oil producing nations, such as Canada, Venezuela, Russia, Iraq, Brazil, and Saudi Arabia. Many non-oil-producing emerging market countries have also seen a decline in economic growth as part of a domino effect related to the global energy slump.
Many U.S. producers have had to curtail or cease production because their costs of extracting oil exceed the current low price of oil. In other words, they lose money on every barrel of oil they pump. Not only has that caused corporate losses and steep stock price declines, it has also led to about 100,000 lay-offs of people employed in oil and gas extraction and support activities across the U.S. since 2013, according to a February report from the U.S. Bureau of Labor Statistics. Oil prices must recover to well over the current level of about $40 per barrel before some of those operations become economically viable again.
The financial markets have also been rattled by falling oil prices. Many banks and financial institutions that helped finance domestic oil production projects have suffered financial losses during the oil market slump, and still hold billions of dollars in debt from oil projects. In fact, 51 North American oil-and-gas producers have already filed for bankruptcy since the start of 2015, totaling $17.4 billion in cumulative debt, according to Haynes and Boone LLP.

By no coincidence, as the oil markets started to recover over the past couple of months, the financials and financial services sectors began to recover in the stock market. The high yield bond market also rallied strongly in hopes that many of the troubled oil-related issues might avoid default. As would be the case with all significant sectors of the economy, a credit crisis in the oil industry has had a strong negative impact on both the stock and high yield bond markets.
What's ahead?
The oil market is still a long way from full recovery. A price of $40 a barrel is commonly considered unprofitable for most oil producing companies – and nations.
Active drilling rigs in the U.S. are down by about three-quarters, and are at the lowest level since the 1940s, according to Baker Hughes, Inc. That may not improve until oil prices move markedly higher. 
Prices started to move back up this year because supply and demand appeared to be moving back into balance.  People are driving more because gasoline prices have been low, and supply is declining as producers shut existing wells and stop drilling for new oil.
Because of the increased capacity of U.S. oil companies, we don't believe that oil prices will re-ascend to $100 a barrel in the foreseeable future, but as the world's oil needs grow, we do expect prices to move up well above 1st quarter levels.
As for the consumer, gasoline prices should remain at a fairly affordable price for some time to come. It's difficult to say whether gasoline will hit $3 a gallon again in the near future, but consumers should be happy – and continue to enjoy some extra savings – as long as prices at the pump remain under that $3 mark. 
---
All information and representations herein are as of 04/01/2016, unless otherwise noted.
The views expressed are as of the date given, may change as market or other conditions change, and may differ from views expressed by other Thrivent Asset Management associates. Actual investment decisions made by Thrivent Asset Management will not necessarily reflect the views expressed. This information should not be considered investment advice or a recommendation of any particular security, strategy or product.  Investment decisions should always be made based on an investor's specific financial needs, objectives, goals, time horizon, and risk tolerance.
S&P 500® Index is an index of 500 stocks chosen for market size, liquidity and industry grouping, among other factors. The S&P 500 is designed to be a leading indicator of U.S. equities and is meant to reflect the risk/return characteristics of the large cap universe.
Well that's unexpected - your subscription request was not submitted. Please try again.
Gain From Our Perspective
Get Our Investing Insights Newsletter in Your Inbox.
SUBSCRIBE NOW
Gain From Our Perspective
Get Our Investing Insights Newsletter in Your Inbox.
SUBSCRIBE
Thanks for Signing Up!
Be sure to check your inbox for the Investing Insights newsletter to get the latest news and insights from Thrivent Mutual Funds.
Great news - you're on the list!
Looks like you're already on our mailing list. Be sure to check your inbox for the Investing Insights newsletter to get the latest news and insights from Thrivent Mutual Funds.