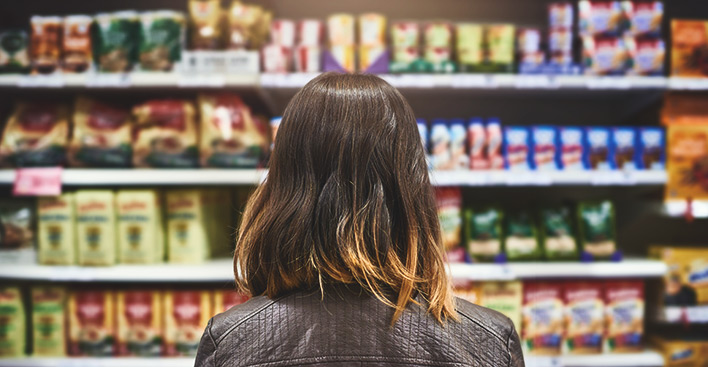 The economy is booming by most key measures. And not surprisingly, consumer confidence is up, and spending has risen along with it.  (See: Consumer Spending Up despite Slow Real Wage Growth)
But with interest rates rising and inflation at its highest level in six years, might the current retail boom forebode a jump in consumer prices?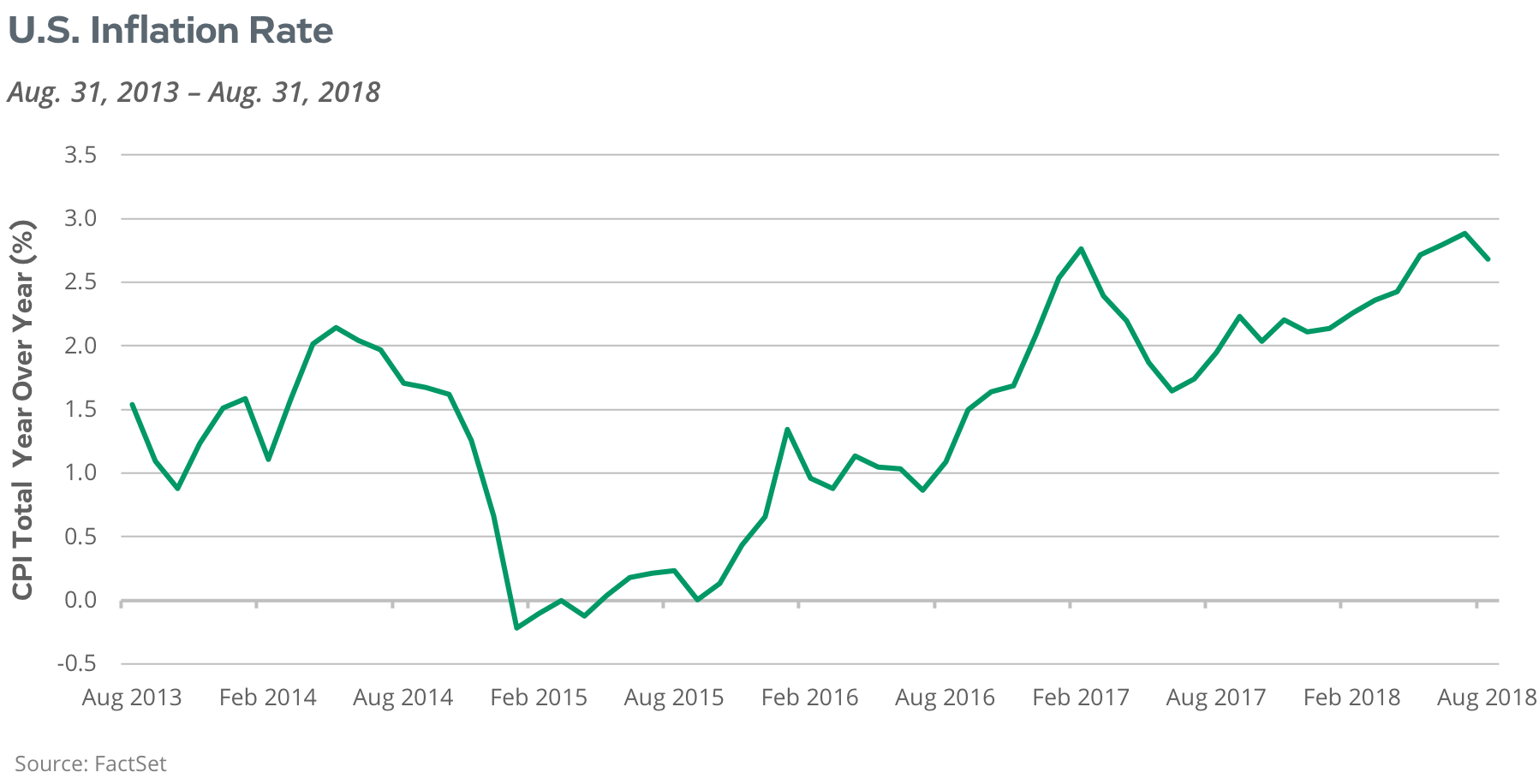 The U.S. annual inflation rate, based on the Consumer Price Index, was 2.7% in August, according to the U.S. Bureau of Labor Statistics.  While that is somewhat lower than 3.27% average annual rate of inflation over the past century[i], it is now at its highest level since February 2012.
So far, retail prices have remained fairly stable, but are there any economic factors that may suggest rising prices ahead?
Sales up, Prices Not So Much
Retail sales have continued to climb this year, with total sales across all categories up 6.6% year-over-year through August, according to the advance monthly retail sales report issued September 14 by the U.S. Department of Commerce.
But while prices in some categories have had notable increases the past year, prices in other areas have remained relatively flat.
Let's take a look at the latest U.S. consumer price index (CPI). The CPI's "all-items" index rose 2.7% for the 12 months ending in August. The index for all items except for food and energy rose 2.2% for the 12 months ending in August – one of the largest 12-month percentage increases since 2008.
However, by far the biggest increase in the August CPI was in energy, at 10.2%. But that was driven primarily by the continuing rise in gasoline and fuel-oil prices as petroleum prices recover from a deep slump. The fact is, gas prices continue to be well below the peak prices of the past, and prices have begun to stabilize along with the price of oil.
A deeper analysis of price trends makes inflation look like less of a worry:
Food prices, which make up about 13.7% of the total CPI, haven't budged much overall in the past year. In fact, according to U.S. Department of Agriculture (USDA), supermarket prices were down 0.2% in 2017. The USDA projects that consumer food prices this year will increase by only 1% or less. Meanwhile, the CPI reports "food at home" prices rose just 0.5% for the 12-month period ending August 2018.
The price of apparel, which makes up about 3% of the CPI calculation, actually declined 1.3% in August. That's the fourth straight month where price tags have either remained flat or declined. The 12-month trend is a 1.4% decrease in prices.
Prices for new vehicles declined 0.3%, while prices of used vehicles rose by the same percentage. Combined, vehicles make up about 7.1% of the CPI. The 12-month trend for each was 0.3% and 1.3%.
Prices of recreational products, a broad category making up 5.8% of the index that includes home electronics, sporting goods and even pets, declined 0.6% in August. Overall prices in this category declined 2.7% over the previous 12 months.
These numbers suggest that while even with high consumer demand, the supply of goods remains high enough to keep prices in check.
But that might not be true for much longer.
Tariff Worries
A tariff battle being waged by the administration could have a major impact on the cost of many types of goods that the U.S. imports from Europe, Asia, Mexico, and Canada.
The biggest tariff war of words recently has been with China, which supplies a wide range of consumer goods to the U.S. market. The list of targeted goods includes items such as food, vacuum cleaners, furniture and bedding, televisions and luggage. (Numerous inputs and commodities, including plastics, chemicals, rubber and leather, are also on the list.) These goods could also see hefty price increases if the proposed tariffs take effect.
The National Retail Federation (NRF) has been one of the leaders in expressing worries over the tariffs. "Consumer fundamentals remain healthy and continue to provide wherewithal for consumers to drive domestic economic growth," NRF Chief Economist Jack Kleinhenz said in a federation press release on August 15. But Kleinhenz added that "the fly in the ointment is uncertainty regarding tariffs. If they escalate, they will no doubt weigh on confidence and household spending."
Rising tariffs and retail prices could precipitate a cycle of inflationary movements. Rising prices mean rising inflation, which could lead to more interest rate hikes by the Federal Reserve (Fed), which could add additional costs to consumers.
One of the key measures the Fed looks at when considering a rate increase is the personal consumption expenditures price index (PCE). The PCE resembles the CPI in many respects, but it excludes the more volatile food and energy sectors. During the past six years, the PCE has run below the central bank's 2% inflation target.
Still, based on the economy's strength and the possibility of inflation ahead, the Federal Reserve has hiked its benchmark short-term interest rate by 0.25% three times this year (from 1.25% to 2.0%), with another hike expected soon.
That, in turn, could result in notably higher consumer loan and credit rates. And while consumer demand has been a key driver of the current economic boom, consumer debt is also at record levels. Price increases from a sustained trade war could hinder consumer spending still further.
And that might come even if real wage growth continues to stall. Real inflation-adjusted average hourly earnings actually decreased 0.1% year-over-year through August, according to the Bureau of Labor Statistics Real Earnings report issued September 13.  As a result, right now, there isn't room in most families' budgets to absorb any retail price shocks.
All information and representations herein are as of 09/18/2018, unless otherwise noted.
The views expressed are as of the date given, may change as market or other conditions change, and may differ from views expressed by other Thrivent Asset Management associates. Actual investment decisions made by Thrivent Asset Management will not necessarily reflect the views expressed. This information should not be considered investment advice or a recommendation of any particular security, strategy or product.  Investment decisions should always be made based on an investor's specific financial needs, objectives, goals, time horizon, and risk tolerance.
Past performance is not necessarily indicative of future results.
---
i 

InflationData.com
Well that's unexpected - your subscription request was not submitted. Please try again.
Gain From Our Perspective
Get Our Investing Insights Newsletter in Your Inbox.
Subscribe now
Gain From Our Perspective
Get Our Investing Insights Newsletter in Your Inbox.
Subscribe
Thanks for Signing Up!
Be sure to check your inbox for the Investing Insights newsletter to get the latest news and insights from Thrivent Mutual Funds.
Great news - you're on the list!
Looks like you're already on our mailing list. Be sure to check your inbox for the Investing Insights newsletter to get the latest news and insights from Thrivent Mutual Funds.