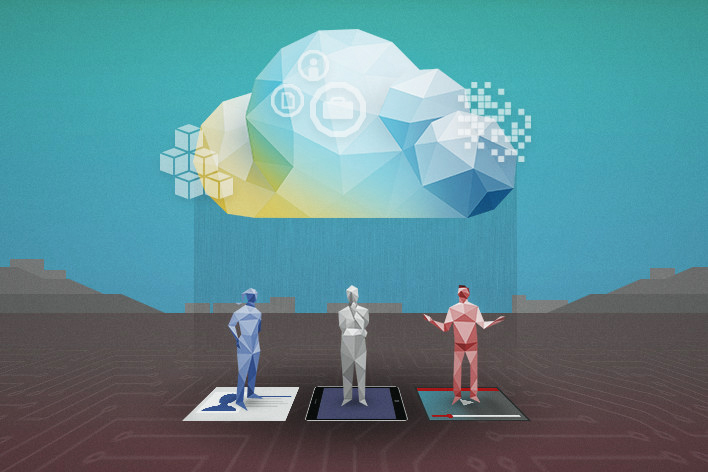 As technology leaps forward at an ever-quickening pace, market leaders of the two leading secular trends – cloud technology and enterprise digitization – are steadily expanding their lead while leaving the competition in a cloud of cyber-dust.
Even though technology has been one of the worst performing sectors of the S&P 500 in 2016, there has been no slow-down in the pace of innovation. More likely, the slump in tech stocks is simply a normal reversion to the mean following a spectacular year in the market in 2015. We believe long-term prospects remain very promising for the leading innovators.
Cloud technology, in which data and applications are moved offsite to a centralized "cloud" server, has become standard practice among a growing legion of businesses. Cloud technology provides businesses with much greater agility and security of their technology infrastructure while allowing them to focus on their core competencies. The early leaders in this area include Amazon AWS, Microsoft Azure, and Salesforce.com, with ServiceNow and Google occupying specialized niches while trying to catch the leaders. 
Digitization has come to encompass a large number of sub-trends that change how companies do business. For example, digitization entails automation of business processes, multi-channel interactions with customers (such as mobile), and new ways to market or interact with customers, such as social networking, videos, e-commerce, and other interactive mediums.
As these new platforms replace the older models, some of the early software and hardware titans, such as IBM, Oracle, EMC, Hewlett Packard Enterprise, and VMware, may see a steady decline in market share.  
Who Are the Leaders in Digitization?
Digitization is somewhat ephemeral but, at its core, refers to key business processes which are now being challenged by new technologies in a variety of areas. Here are some of the key categories of the digitization trend: 
Customer aggregators. These are platforms that own the relationships with the customers and are able to leverage those relationships by extracting a toll for access to their users. The dominant players in this category are Amazon (e-commerce), Google (search and Youtube), and Facebook (social). Other contenders include Snapchat, Alibaba, Netflix, Uber, and LinkedIn (which was recently acquired by Microsoft; see "How Does the LinkedIn Acquisition Fit in the Microsoft Puzzle?").
Digital technology enablers.  As more businesses move to digital marketing, ecommerce, mobile development, and interactive platforms, they need software and services to help make their efforts more efficient and effective. While there are many small players in this category, Adobe and Salesforce.com are the clear large cap leaders among digital technology enablers. 
Service providers. Among the consulting companies that help businesses digitize their expertise, Accenture has emerged as the dominant player. The company has developed a specialization in working with businesses to transform their current business processes to leverage digital marketing, ecommerce, automation and mobile platforms. While Accenture is the clear leader now, IBM, Capgemini and Cognizant are emerging players in the market, which is likely to have more than one winner.  
Machine learning/artificial intelligence. The next battleground in digitization is just around the corner, as machine learning and artificial intelligence become more prominent forces in giving businesses a competitive advantage. For instance, in the near future, businesses may use artificial intelligence to replace call centers for customer interaction, drive delivery trucks, or do product design. While there are currently many contenders in this area, the winners will likely emerge from among the companies with the most data, such as Amazon, Google, Facebook, Microsoft (with its recent acquisition of LinkedIn), and Salesforce.
As cloud and digitization technologies advance, we believe the largest players in each of these areas will continue to maintain an advantage over most challengers through economies of scale. Among the leaders, we expect competition to continue to heat up, as they leverage their considerable resources to develop next-generation technologies and acquire leading edge role players to augment their offerings in the ever-evolving digitization of cyberspace. 
---
---
All information and representations herein are as of July 1, 2016, unless otherwise noted.
The views expressed are as of the date given, may change as market or other conditions change, and may differ from views expressed by other Thrivent Asset Management associates. Actual investment decisions made by Thrivent Asset Management will not necessarily reflect the views expressed. This information should not be considered investment advice or a recommendation of any particular security, strategy or product.  Investment decisions should always be made based on an investor's specific financial needs, objectives, goals, time horizon, and risk tolerance.
This article refers to specific securities which Thrivent Mutual Funds may own. A complete listing of the holdings for each of the Thrivent Mutual Funds is available on ThriventFunds.com.
Indexes are unmanaged and do not reflect the fees and expenses associated with active management. Investments cannot be made directly into an index.
S&P 500® Index is an index of 500 stocks chosen for market size, liquidity and industry grouping, among other factors. The S&P 500 is designed to be a leading indicator of U.S. equities and is meant to reflect the risk/return characteristics of the large cap universe.
Well that's unexpected - your subscription request was not submitted. Please try again.
Gain From Our Perspective
Get Our Investing Insights Newsletter in Your Inbox.
SUBSCRIBE NOW
Gain From Our Perspective
Get Our Investing Insights Newsletter in Your Inbox.
SUBSCRIBE
Thanks for Signing Up!
Be sure to check your inbox for the Investing Insights newsletter to get the latest news and insights from Thrivent Mutual Funds.
Great news - you're on the list!
Looks like you're already on our mailing list. Be sure to check your inbox for the Investing Insights newsletter to get the latest news and insights from Thrivent Mutual Funds.