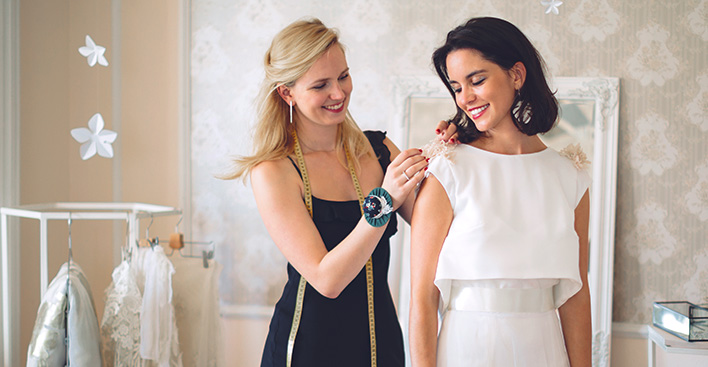 When you're ready to tie the knot, chances are you'll be making more than one commitment on your wedding day – a sacred vow to your future spouse and a financial commitment to cover the cost of the wedding.
Whether you're facing the prospect of financing your own nuptials or the wedding of one of your kids, you may be able to find some creative ways to keep your costs from spiraling out of control if you start planning well in advance.
The average cost of a wedding is about $34,000, according to a survey from The Knoti —nearly as much as a year of tuition and fees at many private universities.
These numbers aren't going unnoticed. According to a survey from Student Loan Hero, about half (52%) of couples have delayed their wedding because of financial concerns, and 74% say they're incurring debt to pay for the big day.ii
However, by making wise choices and starting the process early, your big day doesn't have to sink your finances. Here are some pointers.
Start Planning and Saving Now
The faster you get off the wedding planning runway, the better off you'll be in the end. (Very few people tell stories about their very cheap last-minute wedding.)
Set up automatic savings. Start a savings or investment plan now with automatic monthly contributions that come out of your checking account on paydays. As with your 401(k) plan, the money will be tucked away before you can spend it, making it easier to save regularly. Putting money away beforehand will cost significantly less than charging expenses to a high interest credit card. (Average credit card interest rate exceeds 17%, according to CreditCard.com's weekly Rate Survey.)
Don't delay on booking your venue—or anything else. The longer your lead time, the better your chances of getting the venue you want at a reasonable rate because many venues raise rates as dates get closer. You'll also be more likely to snag that great (but lower cost) vendor who may book up quickly.
Be Prudent about the Big Picture
Some of the most basic decisions you make about your wedding (like where it will be and how big it is) will make a big difference in your bottom line.
Buck tradition. Many of the price tags of a traditional wedding get smaller if you think outside the box. If you (or your son or daughter) aren't set on all the trappings that come with a conventional celebration, there are a variety of ways to mix things up—and pay less. You might consider having a brunch wedding instead of a sit-down dinner or scheduling the ceremony on a Friday. You might also save money by setting the date for January instead of June. You might consider renting a beach house for the weekend instead of choosing a church and reception hall, or you could invite friends over for a barbecue and have a wedding in your backyard.
Weigh the pros and cons of a destination wedding. Getting married elsewhere can be significantly cheaper—the average international destination wedding is just over $27,000. And many resorts offer discounted package deals. So even if you spend more on travel costs, the overall price tag may be more appealing to you – although your guests may end up paying considerably more. The flip side is that if you go somewhere that involves a pricey flight and lodging, you would likely attract fewer guests which could help keep your costs down.
Be frugal with your guest list. One of the biggest factors in cost control is how many guests come to the wedding. You might think that you and your family don't have that many close friends, but by the time you combine the bride's family, the groom's family, and all of their friends and loved ones, the numbers could balloon quickly. Carefully consider who should be there for your special day and try to keep the total manageable.
Keep the wedding party small. For every person in the wedding party, that's another bouquet or boutonniere, another bridesmaid or groomsman gift, and another guest at the rehearsal dinner and bridal luncheon. If you cover hair and makeup services, that's an additional cost. Keep bridal party duties to immediate family members and very close friends, if possible.
Sweat the Small Stuff
There are so many details to think about and they can all add up if you're not careful. If you dedicate some time and attention to the little things, you could save a significant amount.
Choose a venue that's already decorated. If you pick a spot for the wedding that comes with its own natural beauty—a vineyard, a garden, a beach house—you won't have to spend extra on flowers to make it nicer. It's also handy if a venue comes with its own tables and chairs, as well as glassware, dishware and silverware. Whatever isn't there must generally be rented and transported which adds to the cost.
Rethink paper announcements. There are now a variety of classy ways to communicate with guests, meaning you can skip the paper (and postage) for items like save-the-dates, invitations and shower announcements. The average wedding couple spends $109 on engagement announcements, $225 on invitations and reply cards, $105 on postage and $112 on save-the-dates, according to data from TheWeddingReport.com. Electronic communication, on the other hand, should cost less than $100. Or use a one-page invitation that directs guests to a wedding website for other details.
Omit the favors. This is another tradition that many people could do without—giving guests little presents to take with them at the end of the event. Now that many people are more environmentally conscious, most guests would probably appreciate that you're not cluttering up the world with a throwaway trinket for 200 guests.
Don't offer an open bar. If you do decide to offer alcoholic beverages at the reception, consider limiting it to wine, beer and possibly a signature drink. Or limit access to an open bar during the cocktail hour only. You shouldn't feel compelled to cover the tab for all your guests throughout the entire event.
Use in-season (and local) flowers. When you sit down with a florist, talk about what's going to be the easiest to procure and gentlest on your wallet at that time of year. Roses and gerbera daisies can be surprisingly cheap; peonies and orchids, not so much. Ask your florist also about non-floral décor, such as candles, fruit and seashells, depending on your venue and theme.
Skimp on the fancy cake. Want a beautiful cake to cut? Order a small one for the cutting, then keep sheet cakes in the back for slicing for the guests. You'll save on the fee because your baker won't have to fastidiously decorate a huge cake tower. Budget-wise, think of it as having your cake and eating it too.
In the end, it's key that you spend on what's important to you—and that's a very individual decision. Discuss the priorities that will be most meaningful and find ways to save on the things that don't matter as much.
(And here's more good reason to consider slashing your wedding costs: one of the top spending regrets of newly married couples was spending too little on the honeymoon.iii)

[i] The National Average Cost of a Wedding, theknot.com, 2018
[ii] Wedding Costs Survey, February 2018, StudentLoanHero.com
[iii] "To Do It Again," survey of 2,000 married couples, DanaRebeccaDesigns.com

This information should not be considered investment advice or a recommendation of any particular security, strategy or product. Investment decisions should always be made based on an investor's specific financial needs, objectives, goals, time horizon, and risk tolerance.
Well that's unexpected - your subscription request was not submitted. Please try again.
Gain From Our Perspective
Get Our Investing Insights Newsletter in Your Inbox.
Subscribe now
Gain From Our Perspective
Get Our Investing Insights Newsletter in Your Inbox.
Subscribe
Thanks for Signing Up!
Be sure to check your inbox for the Investing Insights newsletter to get the latest news and insights from Thrivent Mutual Funds.
Great news - you're on the list!
Looks like you're already on our mailing list. Be sure to check your inbox for the Investing Insights newsletter to get the latest news and insights from Thrivent Mutual Funds.