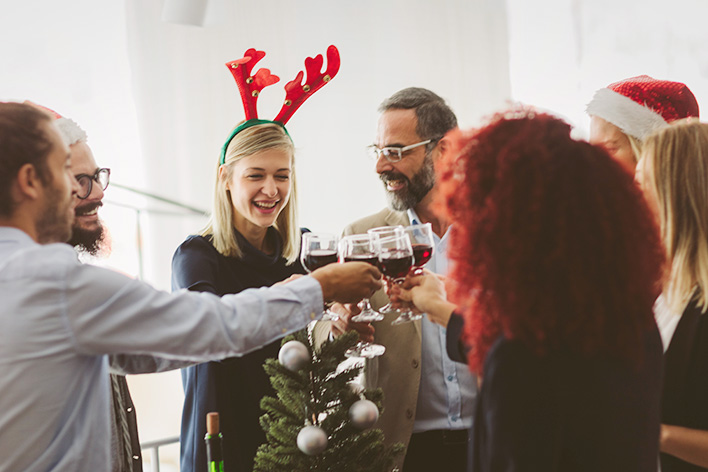 Holiday parties are a festive time to share some seasonal spirit with your extended family, your close friends, or your colleagues from work. It can also be the perfect opportunity to make a good impression if you find yourself cornered by a group of finance-talking friends.
You don't have to know a lot about the economy and the markets to make some waves on the party circuit this holiday season. If you can casually throw out a handful of pertinent economic and investment tidbits, you'll impress your friends and family, possibly your boss – and maybe even your in-laws.
Here are 7 gems you can drop on your colleagues to fit into the conversation and strut your expertise on the economy and the investment markets:
1. "GDP was up a healthy 3.3% last quarter."
What did you just say?
Translation: GDP stands for "gross domestic product" which is a leading measure of how the economy is performing. "A healthy 3.3% last quarter" means the economy grew at a 3.3% annualized rate during the 3rd quarter1 – July through September – which is considered to be a fairly strong growth rate – especially compared with the slow GDP growth in recent years as the economy recovered from the recession. By the way, if someone disputes that and says, "GDP was only up 3.0%," the proper response is, "That was the first estimate, but it was revised up in November." (See: December 2017 Outlook: Fed Expected to Raise Rates as Economy Strengthens)
2. "This is the second longest bull market in modern market history."
Translation: The stock market, in this case as measured by the S&P 500® Index2, has been in a growth period known as a "bull market" since March 7, 2009. That equals 105 straight months through November 2017. A bull market is defined as a market in which prices continue rising without being interrupted by a decline of 20% or more.3 By the way, the longest bull market was 113 months from the fall of 1990 to the early spring of 2000.4 (See: November Market Recap: Stocks Continue Upward Momentum)
3. "The job market has been great – employment has gone up for more than 80 straight months – but wages are still lagging,"
Translation: Jobs in the U.S. have increased for more than 80 straight months, as companies have been consistently adding employees. But over the past 12 months, average hourly earnings have increased by only 2.5%,5 which is considered to be a slow growth rate by historic standards – particularly during a period of strong job growth and historically low unemployment.
4. "With unemployment down to 4.1% -- the lowest since 2000, by the way – it seems like wages may start to rise faster as employers compete for qualified workers."
Translation: It's fairly self-explanatory, but as the pool of available workers shrinks, which happens as companies hire more workers and Baby Boomers exit the work force for retirement, companies are having difficulty finding qualified people to fill openings. Heightened competition among companies to fill those positions would seem likely to drive up wages, but so far that has not been the case.
5. "If you're looking for diversification, mutual funds may be an economical way to accomplish that."
Translation: Diversification is the practice of investing in a broad range of investments. While diversification does not eliminate risk, it may mitigate your risk by spreading your money over a variety of different types of investments. A diversified portfolio might include stocks of various sizes, sectors or locations, as well as bonds or other types of assets.
Mutual funds are a type of investment that typically holds a diversified portfolio of stocks and bonds. Investors who buy shares of a mutual fund participate in the performance of the portfolio of stocks or bonds (or a combination of both) held by the fund. If the investments in the fund go up, the value of your shares goes up; if the fund holdings go down, so does the value of your shares. A feature of mutual funds is that they offer investors the chance to participate in the performance of a diversified portfolio at a relatively low investment cost. And this may be easier than you think. For instance, you can begin a mutual fund investment plan with as little as $50 a month at Thrivent Mutual Funds. (The $50 starting amount is available only when setting up a $50-per-month (minimum) recurring or automatic purchase plan.) (See: Start Building Your Nest Egg for $50 a Month)
6. "Oil prices have made a nice recovery."
Translation: After dropping to under $27 a barrel in February 2016 (West Texas Intermediate), oil prices have slowly climbed to about $57 a barrel (as of December 1, 2017). The slump in oil was created by a glut in the global oil supply, but a policy by OPEC to limit production has helped to cut the surplus and drive up prices. The rising prices have already spurred a rebound in U.S. drilling and production operations, which could continue to ramp up as supply dwindles and prices improve. A rebound in the U.S. oil industry could lead to improving profits and an increase in well-paying jobs.
7. "A Roth IRA can give you tax-free growth of your investments and tax-free distributions when you retire."
Translation: A Roth IRA (Individual Retirement Account) is a type of savings account that provides tax benefits for individuals saving for retirement. It is one of two common types of IRAs.
Roth IRAs and traditional IRAs both provide tax benefits to investors, including tax-deferred investment gains. However, other tax benefits vary. While a Roth provides no tax break for contributions to an account, it allows for all qualified withdrawals to be made tax free. Conversely, a traditional IRA generally provides a tax deduction for contributions in the year they are made, but all withdrawals are taxed as ordinary income. In short, a traditional IRA front-loads its tax benefits while a Roth IRA delivers them at the back end. There are several requirements that make a distribution "qualified," which are found in detail in IRS Publication 590.
That should be ample ammunition to help you fit into the conversation and impress your friends when the topic turns to finance and investing this holiday season. 
If you want to learn more about the economy, the markets, mutual funds, and other financial topics, you can subscribe to our Investing Insights newsletter, with a variety of financial topics delivered to your inbox monthly. Happy Holidays!
This website is not intended as a source for legal, accounting or tax advice or services. Work with your attorney and/or tax professional for additional information.
---
1 Source: U.S. Department of Commerce
2 The S&P 500® Index is a market-cap weighted index that represents the average performance of a group of 500 large-capitalization stocks.
3 Standard & Poor's and Dow Jones & Company
4 "Happy Birthday Bull Market," Fortune, March, 2017
5 U.S. Department of Labor
Well that's unexpected - your subscription request was not submitted. Please try again.
Gain From Our Perspective
Get Our Investing Insights Newsletter in Your Inbox.
SUBSCRIBE NOW
Gain From Our Perspective
Get Our Investing Insights Newsletter in Your Inbox.
SUBSCRIBE
Thanks for Signing Up!
Be sure to check your inbox for the Investing Insights newsletter to get the latest news and insights from Thrivent Mutual Funds.
Great news - you're on the list!
Looks like you're already on our mailing list. Be sure to check your inbox for the Investing Insights newsletter to get the latest news and insights from Thrivent Mutual Funds.