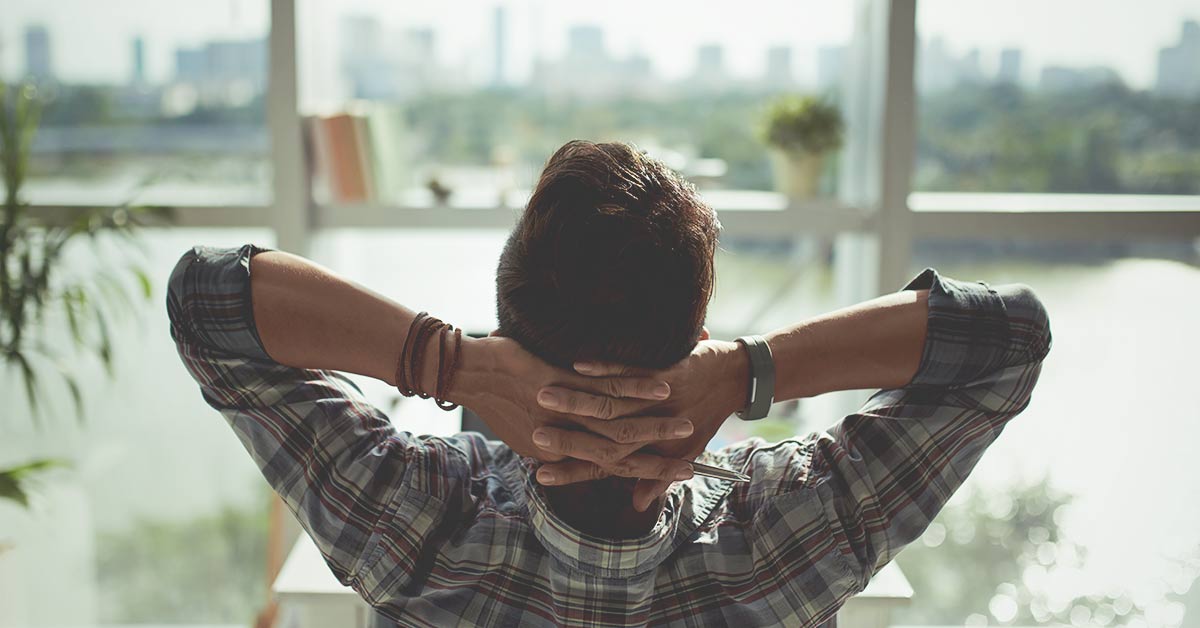 You may wonder if you have the right long-term investment strategies in place. Many investors feel confident in making short-term investment decisions, which range for up to a three-year period, as these often take advantage of market trends. However, long-term investments typically span 10 years or longer and may raise additional questions. If you've ever wondered, "Where are the markets heading?" or "Is my mutual fund diversified enough?", you're not alone. It can be tempting to withdraw investments earmarked for long-term goals when the market dips. Understanding these four long-term strategies may help you stay invested in your future and understand more about how to invest long term.
Historically, it has paid to stay invested through market ups and downs: the stock market has trended upward over the long haul, and it is notoriously difficult to predict when the market is going to shift. The financial crisis of 2008 saw the Standard & Poor's 500 Index® (S&P 500®)—a market-cap-weighted index that represents the average performance of a group of 500 large-capitalization stocks—plummet to a low of 676.53 on March 9, 2009. It then rebounded over 200% to 2043.92 by December 31, 2015. Staying invested through a drop in the market may allow you to reap the benefits of a fast-following rebound. Missing the "best days" to be in the market, can significantly impact long-term performance over time.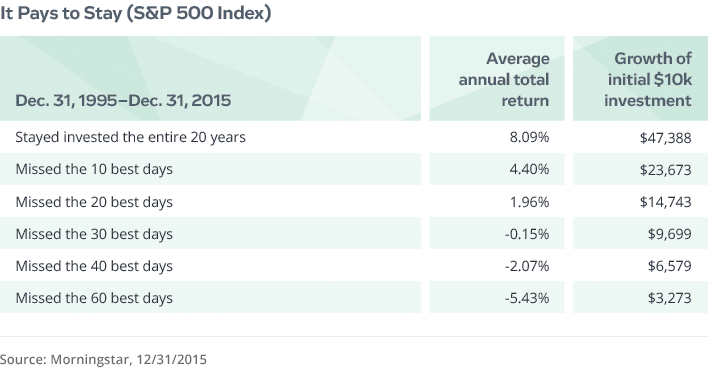 2) Invest using dollar-cost averaging
Dollar-cost averaging1 is an easy technique to set up with automated investments. Simply purchase the same dollar amount ($100 in the example below) in your mutual fund account every month or quarter. The cost of the shares may be higher one month and lower another month, but over time you benefit from an average purchase price. Purchasing at intervals reduces the risk of investing a large amount all at once when the cost of shares may be high.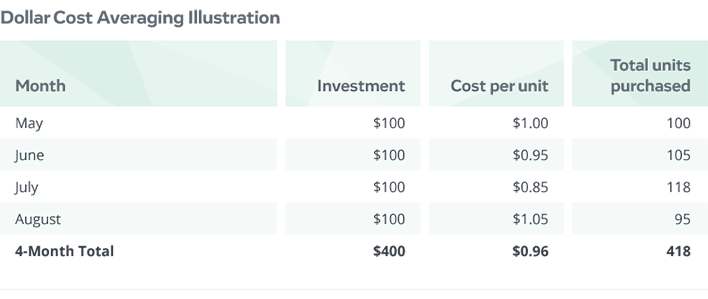 3) Reinvest dividends and capital gains

Mutual funds may periodically pay dividends and capital gains. If you set up your account so these payments automatically reinvest, you'll purchase additional mutual fund shares and build your holdings without having to add more cash to your account. Similar to dollar-cost averaging, reinvesting dividends and capital gains can occur automatically at regular intervals.
4) Choose a diversified portfolio
Choosing a well-diversified portfolio that suits your individual risk tolerance can help when investing long term. With a mutual fund, you purchase shares of a fund invested in multiple stocks, reducing the exposure investors take on when owning individual stocks tied to only one company's performance. Thrivent Mutual Funds offers actively managed mutual funds that are diversified for a variety of risk tolerances, which means you can select a fund that aligns with your investing style and goals. Take the investing style quiz to learn what types of funds may suit your needs.
Past performance is no guarantee of future results.
Individuals cannot invest directly in any index.
1Dollar-cost averaging does not ensure a profit, nor does it protect against losses in a declining market. Because dollar cost averaging involves continuous investing, investors should consider their long-term ability to continue to make purchases through periods of low price levels.
While diversification can help reduce market risk, it does not eliminate it. Diversification does not assure a profit or protect against loss in a declining market.